Here are a couple of good UK deals for two of the best phones from 2016 – the iPhone 7 and OnePlus 3T. These are unlocked refurbished handsets and their software support story is pretty good.
The iPhone 7 starts at £260 for the 32 GB version in Good condition, £330 for the 128 GB model and £370 for 256 GB. A pristine unit will set you back £425 (new units are available from Apple for £550), it's available only in 32 GB flavor.
The OnePlus 3T is £170 with 64 GB storage, Gunmetal and Soft Gold colors are available.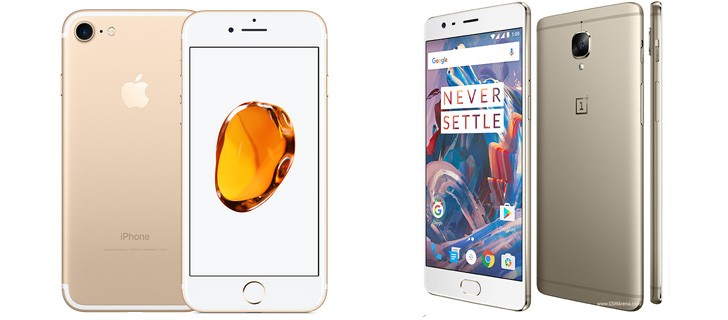 The iPhone will get iOS 12, which was unveiled just a week ago. Meanwhile, OnePlus will provide software updates for the 3T until November this year and security updates until November 2019. Whether or not the phone sees Android 8.1 is unknown (we're leaning towards "no").
A
OnePlus 3T will get 8.1 GSMArena. OnePlus has promised it TWO times. Infact 3T might even get Android P of hints from OnePlus are to be believed. So please, don't do guesswork when information from manufacturer is available.
s
Have had Iphone 7 before switching to Mate 10 Pro. Killer device, with fluent OS and excellent RAM management. Better buy than OP 3T that I see shattered many times in my mobile shop (also no reserve parts for it).
Yep, it's honestly a beast of a phone. Should've gotten this when I realized my S7 was bought for 65$