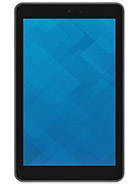 D
Horrible experience with the tablet. I purchased it in 2014. just within 10 days problems started to occur. went to the service center more than 8-10 times even so, no result. Now market price is less than 1K. Just waste of my 14K.

Hate you Dell.
?
A relatively light tablet compared to other 7 inch tablets. Firmware is suprisingly bloat-free and feels like stock Android, with only a few Dell, Amazon and Intel offerings thrown in. It's easy enough to disable w/o even needing root. One issue is that you probably won't be able to charge this off USB, because it requires a 2 amp charger, and USB is only going to give you 0.5 amps at most. So forget about charging this off your laptop.
k
Mjeku, 12 Feb 2015I think now, I have tried everything so far but Skype doesnt work on this device.No, Skype works on it. But the most awful thing for this device that it doesn't support application data transfer from device memory to sd card. Except that it is cheap and useful...
M
abhierenzath, 10 Jul 2014does it supports voip or skype calling????I think now, I have tried everything so far but Skype doesnt work on this device.
A
Just bought one in Jeddah, Saudi Arabia from Jarir Bookstore for SR499 ($133) and it is a fantastic device so far. Within 15 minutes of setting it up, notified of a system update and to my great shock I was greeted with an update from JB 4.2.2 to KK 4.4.2!

Speed is great, no issues at all and the display has very good sharpness (one notch above most tablets in it's price range) and the body itself is very well constructed. I also like the fact the Android OS itself is mostly stock! Highly recommend this tablet.
D
Edward, 21 Mar 2014How many hours the battery last when continous browsing the internet?battery is about 4-5 hours on continue use.
D
amazing tablet in this price.
I am using this tablet and i have not found any problem till yet in this tablet.
This tablet is also upgradable to android 4.3 (which is not mentioned in specs above.)
S
GPU: Power VR-SGX544MP2

GPU is not specified here because Intel's processor has embedded "Power VR-SGX544MP2" GPU which is very powerful, Apple Ipad mini also comes with "Power VR-SGX543MP2" and Apple always use these GPU's in all devices.
Total of 14 user reviews and opinions for Dell Venue 7 8 GB.