Here's what the Samsung Galaxy Note 4 may look like. While looking very similar to the front of the current Note 3 the back and sides look new.
The phone appears to retain the plastic back with leather-like texture but the sides look similar to the ones on the yet-unannounced Samsung Galaxy Alpha and appear metal.
There's a plastic-like inlay in the side-frame that seems to add more water to the frame being metal rumors. The S Pen holster is etched into the side of the phone and there's a microUSB 3.0 port at the bottom along with a speaker grille.
There's what looks like a hear rate monitor alongside the camera lens on the back. The display of the Galaxy Note 4 should be 5.7" once again but with an improved resolution of 2,560 x 1,440 pixels (QHD).
The retail box of the Galaxy Note 4 has also made an appearance. The design on the front looks similar to the one in the images above adding some more credibility to the leak.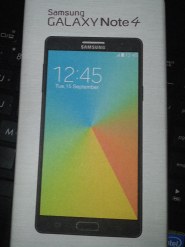 Samsung Galaxy Note 4 retail box
The Galaxy Note 4 will be shown (as is customary with Samsung) this coming September 3 on the IFA floor and should make it to the shelves starting September 15.
Thanks to our anonymous reader for sending this in!
r
can some one help why all my picture on this phone look metallic sort of black and white and how to set it back to normal.
D
I saw the phone as a preview at Best Buy and it was gorgeous. The picture was crisp and by far surpassing 1020p HD.All it's options, camera, and processor surpass the I phone anything. It is a bit larger then a galaxy s5 and isn't meant for a smalle...
D
ow comoon i was so happy with bottom speaker with this leak all my dreams destroyed and ou gave me hope for nothing thx!will stuck with my note 2 F this
ADVERTISEMENTS