Samsung allowed a quick glimpse at what's in store for the next generation of their own smartphone OS. Bada OS 2.0 will have an improved UI, NFC support, an ad gateway and other improvements, including plenty of work under the hood.
Changes to the user interface promise personalization, a "smart" homescreen, layout management (whatever that is) and animation effects. Multitasking and security will get upgrades in Bada 2.0 as well.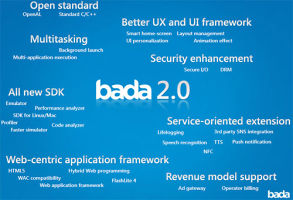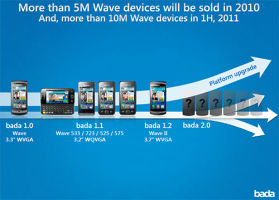 What Samsung has planned for Bada OS 2.0
By the looks of it, Samsung is positioning Bada to be a good alternative to Android - and iOS too. Third-part SNS integration and push notifications make the list as do text-to-speech and speech recognition.
Curiously, NFC (which is experiencing a resurgence with the Samsung-made Google Nexus S) is also included in the plans for the second major version of the self-titled smartphone for the masses.
Operating billing and ad gateway are major additions too. There are no details given, but "ad gateway" sounds like a Samsung-branded alternative to iAds and Google's Mobile Ads.
Bada is growing - more than 5 million Wave phones are expected to be sold by the end of the year and plans for next year include a much faster pace. Samsung's projections expect more than 10 million Bada phones to be sold in the first half of 2011.
Whether or not old devices will be updated to Bada OS 2.0 remains to be seen - the lines in the second slide certainly raise more questions than they answer.
m
i want wats app on my samsunga bada wave
d
plz somehow get whatsup , skype on bada wave 2
r
Samsung Bada Needs: Skype, Whatsapp, VLC player Hope Samsung Doesn't forget users with S8500 phones, More decent apps less themes
ADVERTISEMENTS