iOS users have historically been shown to quickly upgrade to the latest update compared to other platforms and with the latest release of iOS 5.1 this seems truer than ever.
Developer David Smith who created the app Audiobooks, a universal app available on both the iPhone and the iPad in free and paid variants and with around 100,000 weekly downloads, has some statistics that he collected from the users downloading his app every since Apple released iOS 5.1 on March 7.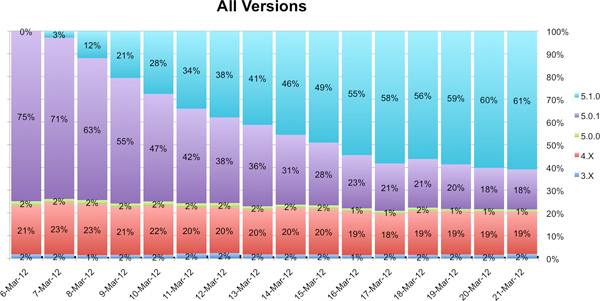 As you can see from the graph above, fourteen days after iOS 5.1 was released, 61 percent of the total users downloading his app were using it, with only 18 percent on the older iOS 5.0.0. The 19 percent of the users on iOS 4.x are likely those using older versions of the iPhone or iPod touch, who are not eligible for iOS 5.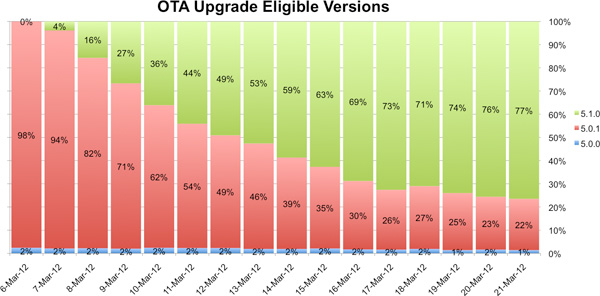 If we look at only iOS 5.x users, the number is even more impressive, with 77 percent of the users on the latest update.
One of the suspected reasons for the quicker adoption of the latest iOS updates is the addition of over-the-air (OTA) updates that was introduced with iOS 5. Now since the update is available directly on their devices, users are more likely to instantly update their phones as soon as it is made available, instead of doing it some time later by connecting it to their computers.
Of course, this is good news for the developers, because if the users update to the newer OS versions quickly, they can also implement new OS related features in their apps faster and drop support for older OS versions that don't support these features.
This data is just for one app, however. We will have to wait for someone to take into account all iOS users so we can have a better idea of the adoption rate.
?
Yes but we're not on a television forum we're on a phone forum. If we take your argument as valid then that's a good reason for me to stay away from Samsung or Sony phones. I don't want to be buying a phone & accepting the fact that it'...
?
Yeah u forgetting another fact that samsung example,they also have to produce TVs and other electronics items same goes to sony etc.the handset department isnt that big like apples.
?
I don't think you're understanding the comments are you? no-one is saying that 2.2 & 2.3 aren't stable. but that ICS has been around for months & very few phones have received the update. Those that have have experienced bugs. ...
ADVERTISEMENTS