It looks like the Android 4.4 KitKat statue is not the only thing revealed by Google today. A mysterious smartphone, sporting a large Nexus logo on its back has made an unscheduled appearance as well.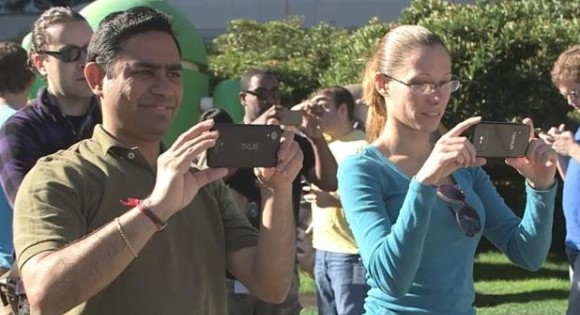 The mysterious smartphone you see in the photo above appeared in the video which showcases the Android 4.4 KitKat statue's placement in Google's campus. Google has subsequently made the YouTube video private, thus further strengthening the feeling that we are indeed looking at the real deal. You can see a copy of it obtained by The Verge below (the smartphone appears about 38 seconds into the video).
The yet to be revealed device sports a look which closely resembles that of the latest Nexus 7. It includes a large, landscape-oriented Nexus logo, as well as similar matte finish and camera placement. Furthermore, a Google employee with a Nexus 4 standing beside the person with the unannounced handset helps us notice the size difference between the two devices.
Rumors suggest that the next Nexus smartphone will be made by LG using the powerful G2 as a base. We doubt it will be a long wait before we find out.
r
what will be the pric of lg nexus 5 rply me soon
D
Want to see Note3 getting killed before its born ... Google make it fast ..
D
This is not Nexus 5 but yes NEXUS 4 2013 Like Nexus 7 2013