Disassembly video shows the Galaxy S21 internals haven't changed much since the S20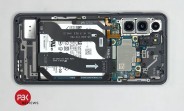 This teardown video of the Samsung Galaxy S21 5G shows that the interior is quite similar to that of the Galaxy S20 before it. To get inside, the plastic back must be removed first. And yes, it's very much a plastic material - not even a hint of glass here.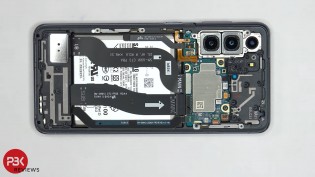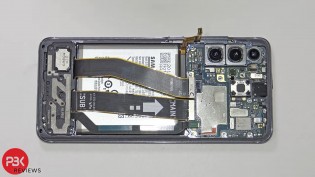 Inside the Samsung Galaxy S21 5G and S20 5G
This S21 unit is equipped with two mmWave 5G (other versions only support sub-6). The antennas are located one each on the left and right sides. They are not huge, but that's still two more antennas than a 4G phone needs to house. Last year Samsung built a special mmWave-enabled version of the S20 just for Verizon, this year it's no longer an exclusive feature.
One thing that Samsung changed for this year is making the display ribbon cable completely removable. This simplifies replacing display – you just need to remove the back panel, the wireless charging coil and the speaker assembly (which covers the USB-C port and nano-SIM slot as well as the display cable attachment point).
Two potentially difficult repairs are replacing the battery and the selfie camera. The battery is glued down without pull tabs (as usual on Samsung phones). The selfie camera is also glued to the frame, a relatively recent change (since the Z Flip).
You can watch the Galaxy S20 teardown video from the same channel, PBKreviews, for a look at how little the interior design has changed.
K
Signal detection is very bad. Especially 4G doesn't seem to give any speed, especially uplink. Where's other phones work fine.
a
The lower resolution of my S21 is noticeable over the higher resolution my S10 screen had. But with the lower retail price and $550 trade in they gave me for my S10(128GB), the 256GB S21 unlocked, I got directly from Samsung, has easily been worth it...
ADVERTISEMENTS