DJI has announced a new Super 35 camera system designed to work with its Inspire 2 drone. Called the Zenmuse X7, it is designed to take drone cinematography to the next level.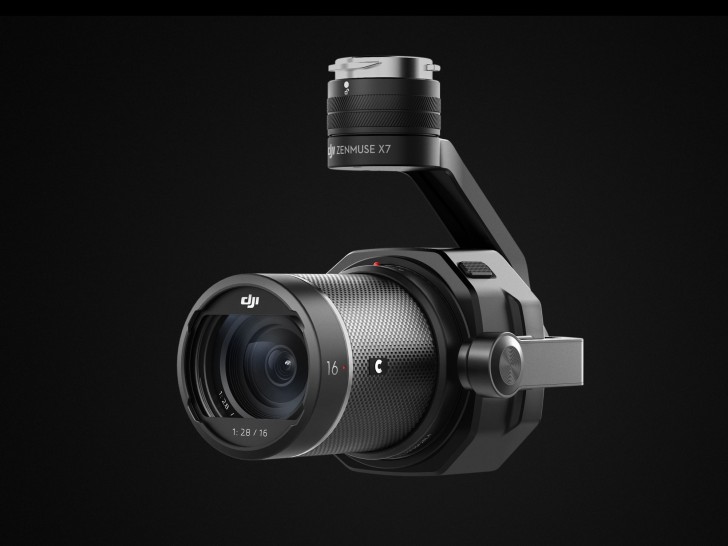 The Zenmuse 7 features a new Super 35mm sensor that features 14 stop of dynamic range. The camera is capable of recording 6K CinemaDNG RAW or 5.2K Apple ProRes at 30fps or 3.9K CinemaDNG RAW or 2.7K Apple ProRes at 59.94fps.
DJI has worked with Technicolor to improve its color science for the Zenmuse 7. The camera now features a new D-Log profile called DJI Cinema Color System or DCCS. This lets the camera capture a wider dynamic range, making it suitable for challenging lighting conditions as well as modern technologies such as HDR video. There is also a new D-Gamut RGB color space that the camera records in for a wider color range.
The Zenmuse X7 has a new DJI DL-Mount with an extremely short flange distance (distance from the lens to the sensor). To work with this system, DJI has also launched four new prime lenses in 16mm, 24mm, 35mm and 50mm focal lengths. Each of these lenses has f2.8 aperture and the 16mm has a built-in ND filter while the others feature a mechanical shutter.
The Zenmuse X7 will be available in early November for $2,699, with the 16mm, 24mm, and 35mm lenses being priced at $1,299 each and the 50mm going for $1,199. Customers can also purchase all four lenses together for $4,299.
?
Its good for blind peoples
a
what do you pros only are serious bro you think Im not a pro what do you think of yourself ?