DJI has launched the Mavic Air 2, successor to the popular Mavic Air from 2018. The new drone is improved in every way, with better imaging, flight and safety.
Starting with the imaging, the Mavic Air 2 features a new 1/2" 48MP Sony IMX586 sensor that can shoot images in either 12MP using pixel-binning or in the full 48MP resolution. Photography features have been enhanced with the new SmartPhoto, which uses advanced scene analysis and deep learning to automatically choose from one of the three modes: HDR, Hyperlight, and scene recognition.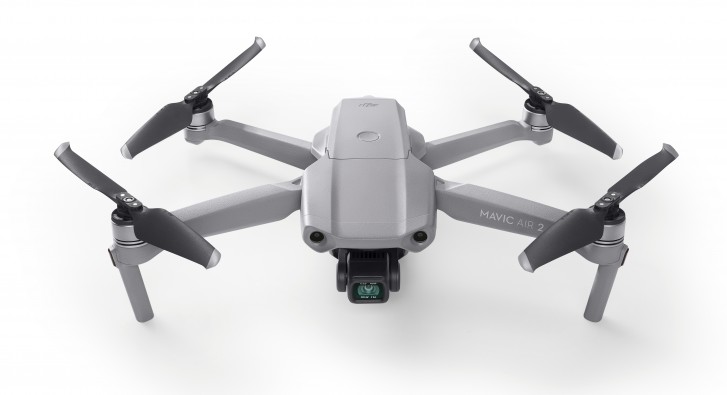 In HDR, the camera shoots seven images with varying exposures and combines them into a single image. Hyperlight is essentially a night mode, where the camera again takes multiple images and merges them together to reduce noise. Scene recognition can detect sunsets, blue skies, grass, snow and trees to automatically adjust various parameters for the best image quality.
As for video, the Mavic Air 2 can now do 4K video at up to 60fps and 120Mbps. Additionally, you can shoot in 120fps or 240fps at 1080p with 4x and 8x slow motion, respectively. There is even an option to shoot HDR video, although we don't know if HDR here refers to standard image stacking or HDR PQ.
Mavic Air 2 comes with FocusTrack, which according to DJI is the most advanced tracking feature it offers on any of its drones. It has three modes: ActiveTrack 3.0 tracks a subject with advanced mapping technology and new flight path algorithms, while Point of Interest 3.0 lets you set a flight path around a specific subject, with improved surface recognition this time around. Lastly, Spotlight 2.0 locks a subject in the frame while the user has free operation of the drone's movement.
The Mavic Air 2 can now do hyperlapse videos in 8K. Pilots can choose from four flight modes, including Free movement, Circle, CourseLock, and WayPoints. You also get several pre-programmed flight maneuvers known as QuickShots, which use a 3-axis mechanical gimbal and electronic image stabilization. You have a choice of Rocket, Circle, Dronie, Helix, Boomerang or Asteroid.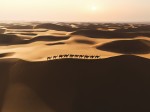 Sample shot from DJI with a lovely fake Sun
Another thing the Mavic Air 2 improves on is flight performance. Thanks to the new motors, new electronic speed controllers, improved battery and aerodynamics, the Mavic Air 2 can stay in the air for up to 34 minutes of flight time.
DJI has an updated proprietary OcuSync 2.0 transmission technology, which can now deliver a stable HD feed from the drone at a maximum distance of 10km with no obstructions. OcuSync 2.0 works using either 2.0GHz or 5.8GHz frequency bands with auto-switching to avoid interference.
Mavic Air 2 also promises extra safety, with new obstacle sensors on the front and rear of the drone to warn when they are too close to an object and can automatically stop the drone to avoid collision. Additional sensors and auxiliary lights on the bottom of the drone assist with automatic landing even in difficult lighting. Mavic Air 2 comes with DJI's GEO geofencing feature to keep the drone away from high-risk locations, such as airports.
An Advanced Pilot Assistance System (APAS) 3.0 on the Mavic Aie 2 will create new paths around, under or over objects to avoid collision. Using 3D mapping, APAS 3.0 helps in smooth transitions and more fluid movements around objects even in complex environments.
Mavic Air 2 is DJI's first consumer drone designed to include AirSense. AirSense warns drone pilots of other aircrafts nearby. It uses ADS-B to receive signals from nearby airplanes and helicopters and displays their location on the drone pilot's screen. If an aircraft gets too close, AirSense will warn the drone pilot with messages, sounds and vibrations.
The Mavic Air 2 is now available for immediate purchase in China. In other regions, it will be available for pre-order with expected ship time of mid-May. It will be available in two packaging options: standard package includes the Mavic Air 2 drone, one battery, remote controller and all wires and cables for $799. The Fly More package includes all the aforementioned items along with a shoulder bag, ND filters, charging hub, and 3 batteries for $988.
For an additional fee, customers can get DJI Care Refresh, which provides comprehensive coverage for incidents such as collision and water damage as well as up to two replacement units within one year.
D
Looks promising. Good for LIDAR technology.
?
How is this related to mobile phones?
ADVERTISEMENT