Camera
Speaking of unmitigated disasters, Doogee really skipped on the camera department for the Mix. Well, we guess something had to give when working with such a tight budget, but we kind of feel some of the damage could have been avoided.
Here's part of what we mean: Having an edge to edge display in a handset takes up a lot of internal space, even in the manner Doogee has done it, with a bit more bezels than the likes of the Xiaomi Mi Mix. That is why it's quite difficult to combine the space-hungry display assembly with a space-hungry dual camera setup. It appears Doogee really wanted the bragging rights and marketing appeal for the latter, enter its 16MP + 8MP ISOCELL setup.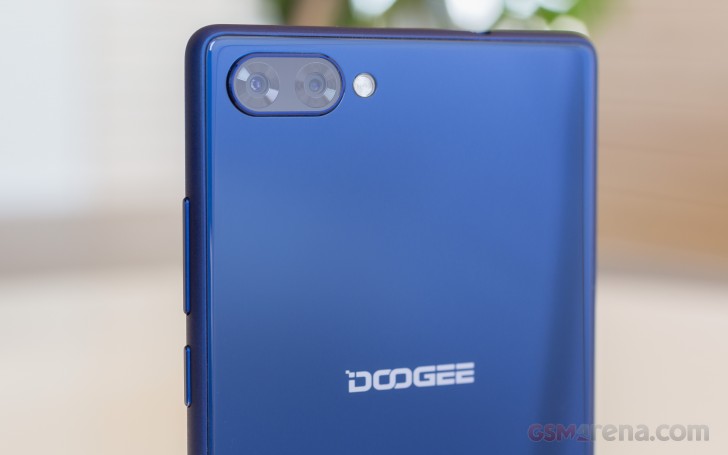 The Samsung ISOCELL brand name typically inspires confidence and sets expectations pretty high for a solid camera experience, complete with a certain boost to low-light performance. However, to accommodate everything space-wise, Doogee opted for the slimmest Samsung camera module, one measuring just 5mm and one that inevitably has to battle a lot of engineering challenges.
Another interesting issue concerns the secondary 8MP snapper. Doogee is really non-descriptive when it comes to its function. It clearly contributes some depth information to improve the phone's trendy bokeh effect. It also plays part in the 2x zoom algorithm. Beyond that, however, what it can do for you is a bit of a mystery. Some people have speculated that it is black and white, but the monochrome camera mode definitely does not rely on it. In fact, there is no way to take a shot with the second camera alone, so we are just going to assume it has purely assistive functions.
Just like the rest of the UI, the camera app is quite rough around the edges. It is also not very stable and managed to crash a few times while we tested the device. Other times the shutter button would become unresponsive and plainly refuse to take pictures for a while.
We have to admit the dedicated monochrome mode is a bit confusing and potentially misleading, since, like we already mentioned, it does not use the secondary camera, provided it is even monochrome. Still, there is a monochrome filter as well, which sounds like it does the same thing.
HDR, on the other hand is not a separate mode, but might as well be one, since the Doogee Mix does not offer an auto setting for it. You have to enable it manually, which takes three whole taps.
Blur mode works well enough, although it is kind of excessive in its effect. Pro mode is a bit rudimentary, but it does offer ISO control.
Photo quality is really poor on the Doogee Mix. Frankly, we haven't seen mobile photos come out quite so bad in a long time. Shots come out noisy and soft, with little fine detail. Edge to edge sharpness is also uneven. In fact, the Mix tents to miss focus quite often. It is also stubborn in refocusing on tap.
Tapping on the viewfinder is not really advisable for another reason as well. That gesture also triggers spot exposure metering and you really need to be careful with that on the Doogee. It is really sensitive and tends to severely over or underexpose shots every chance it gets. Coupled with the inherently poor dynamic range and unreliable focus, that often leaves you with practically ruined shots.
At this point we turned to HDR in an act of desperation, hoping it might at least remedy the exposure situation a bit. It didn't. The phone is just a temperamental and overly sensitive in this mode as well.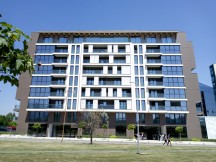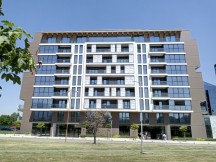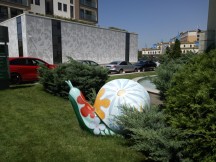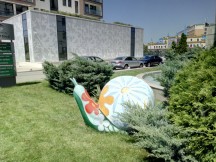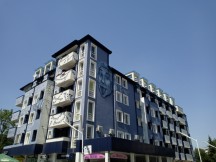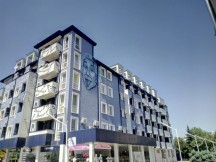 HDR Off • HDR On • HDR Off • HDR On • HDR Off • HDR On
You really do need to take your time with the Mix's camera and absolutely always take at least a few shots, just in case.
On a slightly more positive note, the monochrome effect works well enough.
Zooming (2x) is also reliable and thankfully with little to no loss of detail - definitely a good thing, since it is kind of scarce to begin with.
The Doogee Mix has a dedicated Blur mode to handle bokeh shots. The effect is actually pretty convincing if you keep the intensity settings low (below 30). Go any higher than that, however, and the imperfect way it works really starts to show.
The main slider controls the intensity and radius of the blur circle from the edges of the frame inward. You can't adjust said circle's center no matter how much you play around with spot metering and focus (which you really shouldn't, so as not to ruin the shot's exposure, remember). Then there is a second inner circle, which you do actually more around by tapping the viewfinder. It has its own radius and intensity control, again combined in the same slider.
Sadly, it's shape is not affected by the subject matter or selected focus depth at all either. That all adds up to some odd, flat and artificial-looking shots, where it is easy to blur out things that are part of the foreground, that should be in focus and vice versa. Plus, you can never actually get a proper portrait effect, tracing around your face out of the mode.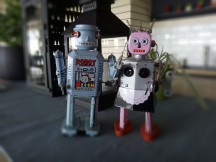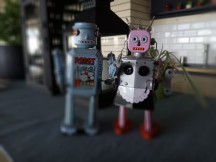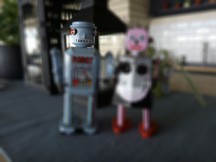 Blur works, but is really not flexible
Panoramas have a few distinct issues of their own. They lack resolution and Doogee also made the rookie mistake of correcting exposure between separate shots, which is a surefire way to ruin a panorama. Other than that, stitching seems pretty good with little to no sights of defects, so a few software tweaks here and there might actually make the shots usable.
You can also check our photo compare tool for some extra pixel-peeping.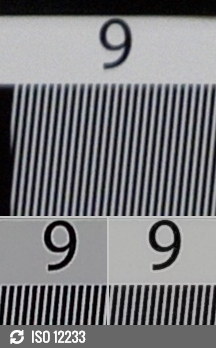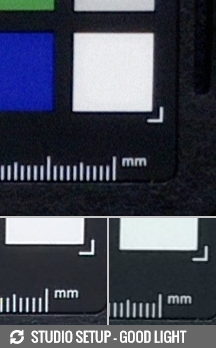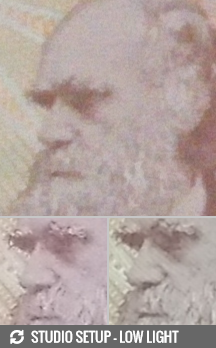 Doogee Mix in our photo compare tool
As for the 5MP, f/2.2 selfie camera, it is even worse than the main camera setup. And we aren't referring to the lower resolution or the lack of autofocus, since those are still common selfie traits in the smartphone realm.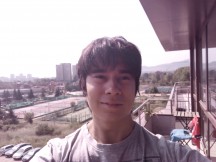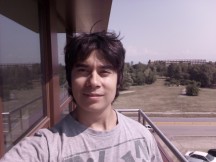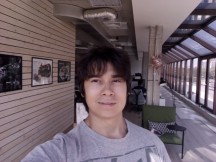 Doogee Mix selfie camera samples
Despite all the criticism we had for the main camera setup on the Doogee Mix, at least is did an OK job with color capture and representation. Sadly, the selfie camera even fails in that respect. Most of our samples came out with various hues and tints, almost as if a retro effect was applied.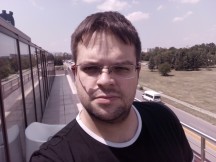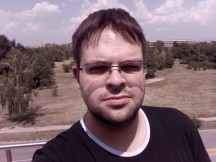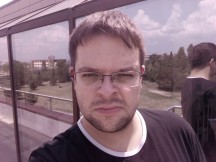 Doogee Mix selfie camera samples
Also, this might be a small grudge, but the odd camera position forces the user to do some really odd hand acrobatics to capture landscape selfies. It dopes prompt you to turn the phone upside down, but that has a few issues of its own and can often result in strange and unflattering angles.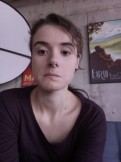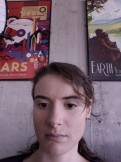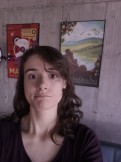 Doogee Mix selfie camera samples
Speaking of unflattering, you probably want to steer clear of "FaceBeauty" mode. Even with conservative amounts dialed into each setting, the end results are far from natural. Dial everything to high and you get an instant horror-movie avatar. Perhaps it's good for a few laughs on social media.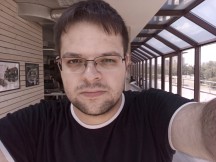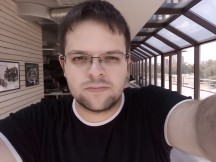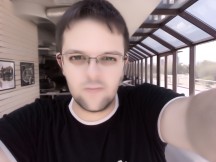 No filter • Medium beauty settings • Beauty settings to max
Video capture
The Doogee Mix is technically capable of recording videos with a resolution up to 4K@30fps - a truly impressive feat at this price point. However, the key work here is "technically". In our testing, we never actually managed to get a stable frame rate out of the unit. The stream hovered around 28 frames most of the time. The more troublesome issue, however, are the constant stutters the Mix produces during video capture - even 1080p ones.
Back when we tested the Sony Xperia XA1 and XA1 Ultra, we were informed that the MediaTek Helio P20 inside those devices was simply not able to handle 4K capture. Now, if we assume the silicon inside the Doogee is indeed an upgrade over the P20, that might potentially include some performance tweaks to the camera ISP as well.
What we are getting at is that it is hard to say what modification of which party (MediaTek or Doogee) actually enabled 4K capture and whether it was a good and feasible idea to do so, or it's just a marketing stunt gone wrong. Considering the poor state of the camera UI and the surrounding OS as a whole and taking into account some other details, like the antiquated 3pg format, we feel pretty confident in blaming Doogee's software division for this issue as well.
But even if we ignore the frame-rate and smoothness issues (which you really shouldn't), the video samples we captured still look really grainy, noisy and in obvious need of more detail. At least colors seem accurate.
Bumping the resolution down to 1080p locks the frame rate at a steady 30 fps and gets rid of the stutter issue. Detail is not great, but also not that far off from that of 4K Mix clips.
We have an untouched 4K sample (10s ~ 24MB) for you to check out as well as a untouched 1080p one (10s ~ 22MB).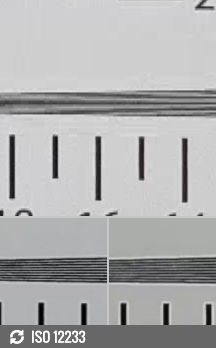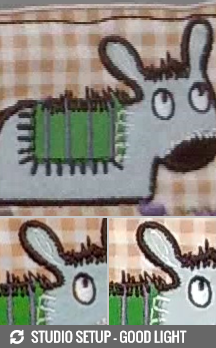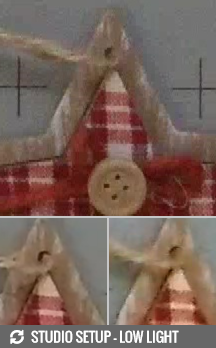 DOOGEE Mix in our 4K video compare tool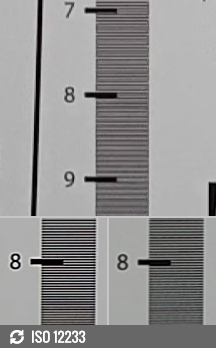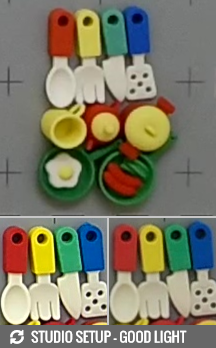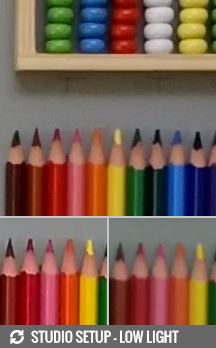 DOOGEE Mix in our 1080p video compare tool
Last, but not least, we have our standard set of studio video samples for you to check out and compare with other devices from our extensive database. If some of the Doogee shots look a bit out of focus, it's because they are. We literally shot each sample 30 times and this is the best we managed to cherry pic out of the mess of inconsistent focus and exposure clips.
The Doogee Mix is just disappointing and utterly unreliable as a digital camera, even for casual use.