An image belonging to a certain Motorola DROID RAZR HD has been found floating around Picasa. It belongs to Vic Yu, who is an engineer and program manager at Motorola Mobility.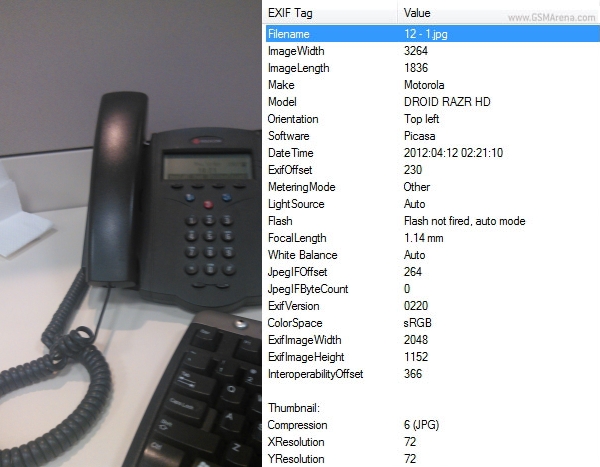 The name was found within the EXIF data for this picture, along with other information, such as the f/2.4 aperture. The image from which this EXIF data comes from was shot at 6 megapixels, but it's in 16:9 aspect ratio, which means at 4:3 the image resolution would be 8 megapixels.
The HD moniker suggests that the phone has a 720p display. This is not unheard of as we have seen a variant of the Motorola RAZR being sold in China with a 4.5-inch, 720p HD display and a 13 megapixel camera (the US version might have just an 8 megapixel camera from the current DROID RAZR, though). This phone has been sold exclusively in China till now, along with another variant without the Kevlar back, but it seems now that Motorola might be bringing it to other markets, starting with the US on Verizon.
G
Before you release a new phone, make sure your other units can reach as far as Southeast Asia! sheesh! We're waiting for the Razr Maxx and it seems Motorola doesn't mind us waiting.
?
I hope that this phone comes with a super wide camera or the focal length on the file is wrong... 1mm? OMG, if this is suppose to have a 28mm FOV then this phone got a really small sensor.
D
actually the phone in the image is droid Razr HD, new kind of mobile,,,,,, joking,,,,,,
ADVERTISEMENTS