Dropbox announces new productivity features, including document scanning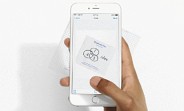 Popular cloud-storage service Dropbox has announced a number of productivity features today. The company says these features are aimed at simplifying, unifying, and securing your work.
Now you can scan documents using the Dropbox mobile app, and the service's Business users can even search inside the scans. Dropbox now also lets you create Microsoft Office docs on mobile - the feature can be accessed by tapping the new plus button.
Other features/tools that the company has introduced include the ability to manage photos from computer, share files and folders from the desktop, add comments to a specific part of a file, preview earlier versions, and share a file with specific people.
Head to the Source link below to learn more about these new features.
D
You stick with wp 10 then. Good to hear this in 2016
?
Still better than Android. :) The only downside is that some apps are missing from the store - but that's not a big issue.
D
wp10 isnt good and app-less