Nokia is preparing to release its second dual-SIM Windows Phone handset, a version of the yet unannounced Nokia Lumia 530. The device (model name RM-1020) was certified by the FCC, which provides the telling diagram on the left (note the "SIM1" label).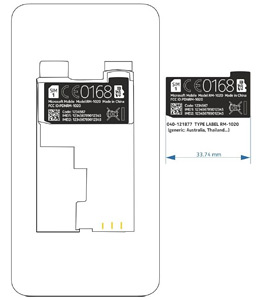 FCC diagram of the dual-SIM Nokia Lumia 530 (RM-1020)
The phone is a small step below the Lumia 630 with a smaller screen and no front-facing camera but it will feature dual-SIM, dual-standby connectivity (since it has two IMEI numbers). It measures 119.7 x 62.3mm, practically the same size as the current Lumia 520 despite having a reported screen of 4.3" (up from 4"). We saw a leaked image of the device in late May but we've heard little since.
The Nokia Lumia 530 was initially certified in Thailand but the new certifications reveal the phone will be available in Australia too.
S
I was waiting for a long time but it's coming with 512 mb ram. I cannot play mc4, nova3. Nokia is doing shit. I rather go for lagdroid 4.4 or the Nokia x2. They don't care for consumers.
r
i think u r very old age man.You have no idea about mobile.You are a blind man/blind beleiver of Nokia.What i tell is true fact.Nokia is just frauding the people.
k
then shut your mouth off Dude. Better WINDOWShop here, you troll. tahaha. Why don't you go to their Center or at least EMail them rather than writtenly shouting here. (Well, that's me)