Dual-SIM iPhones may finally arrive this year, HomePod to start making phone calls
Apple might be adding a much-requested feature to at least one of the three iPhones it's gearing up to launch this fall. We're talking about dual-SIM support, something that's very popular in certain markets, but not so much in the US where the company is based.
This has been rumored before, but now we get a sort of confirmation from Apple itself, through some code included in iOS 12 developer beta 5. As you can see from the screenshot below, a component of the system that generates diagnostic reports includes new references to "second SIM status" and "second SIM tray status".

Another part of the code talks about a "dual sim device". This is proof that Apple is considering building the necessary software support for the dual-SIM functionality right into the next iteration of its mobile OS. The mention of a second SIM tray implies that there will be two physical slots, and not the ability to use an actual SIM card alongside an eSIM.
Past mumblings talked about only the biggest (and most expensive) 2018 iPhone having a dual-SIM version, and only for specific regions. Still, even that's better than nothing for those who have to use two different carriers or subscriptions for whatever reason. This will also be helpful for those who travel a lot, as they could keep using the account from their home country alongside cheaper plans from the place they're visiting.
Apparently the countries where dual-SIM devices are most popular are Nigeria, Brazil, and Egypt, while such handsets get the least amount of use in the US, Canada, and Australia.
The HomePod is in line to receive some new functionality of its own, the same beta of iOS 12 has revealed. We're talking about making phone calls directly. At the moment if you want to use your HomePod for a call you have to dial or answer on your iPhone and then select the speaker as the audio output device.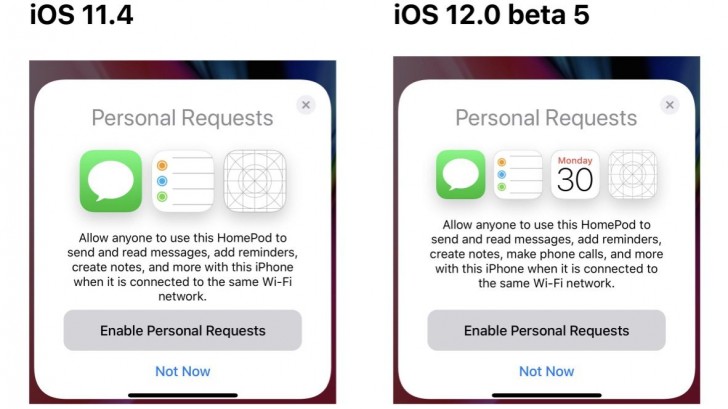 However, the audio accessory is apparently going to get the new feature when iOS 12 is released in September (alongside Calendar support). The personal requests setup UI in the latest developer beta includes a fourth icon, for the Phone app. Additionally, the text description has been updated to include the mention of making phone calls, as you can see in the screenshot above.
J
Apple : "Yesterdays technology today at tomorrows prices"
a
Looks like you haven't done your research right. Here in India, there is mix usage in terms of phones, people use basic keypad 3G phones, Mid range phone and high end phones depending upon their level of understanding new gadgets and personal prefere...
.
3 of the big 4 carriers in the US have free international data and text because American travels so much. American are the 3rd most traveled people in the world behind Chinese and German