While Samsung is yet to officially release the dual-SIM variant of its Galaxy Note8 smartphone in the US, those interested in purchasing the model aren't completely out of luck. An eBay retailer is selling the unlocked, dual-SIM variant for $889.99.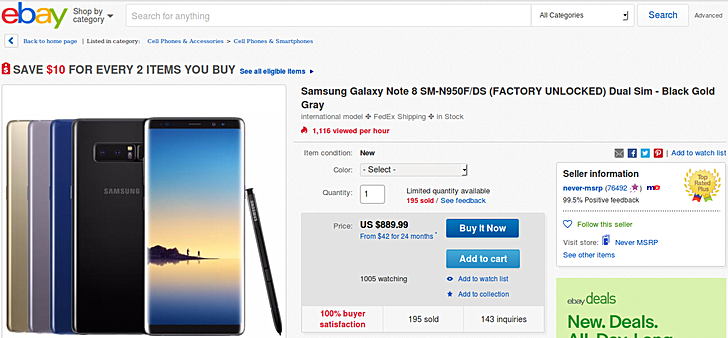 What's worth mentioning here is that the unit on offer is Exynos 8895-powered, meaning it's the international model (US models are Snapdragon-powered). Also, the phone is only compatible with GSM networks.
Available color options include gold and gray (black and blue are out of stock). For more information, head to the Source link below.
M
Will this dual sim version work for Rogers in Canada (LTE capable?)
D
WTF ? Are you sure ? I mean I am looking at Exynos S7 unit that is rooted and have custom S8 ROM. I think you meant to say Exynos is better and not Snapdragon . I am owner of 950U1 so I'd love to think you're correct because my new Note8 is...
?
Snapdragon is better. You can root the Snapdragon versions. Moreover, you can use custom ROMs, unlike the Exynos. End of argument.