The Samsung Galaxy S9 has been making headlines all week leading up to, during, and after its announcement last weekend. DxO Mark is a company dedicated to testing all kinds of camera equipment and includes smartphone cameras as well.
The Galaxy S9+ was praised for offering "one of the most comprehensive smartphone imaging feature sets available today." This is definitely a result of Samsung's dual-aperture camera system that switches between f/2.4 for bright lighting conditions and a much faster f/1.5 aperture for taking photos in low-lighting conditions.
Here's DxO Mark's brief summary of the phone:
With an overall DxOMark score of 99 points, the Samsung Galaxy S9 Plus takes the number one spot in our Mobile ranking, edging out the Google Pixel 2 by just one point and the iPhone X by two. The S9 Plus comes with a camera that hasn't got any obvious weaknesses and performs very well across all photo and video test categories.
In bright light, the Galaxy S9+ has a nice balance between noise reduction and retention of details. Though it wasn't the fastest auto-focusing system, it was "more than fast enough". Reliability and consistency of performance was also a positive note.
In lower light conditions, fine details aren't as apparent as in bright light, but this is the usual tradeoff of reducing noise in low lit scenes. The image stacking is what takes a toll on such details. "The S9 Plus keeps an excellent balance between noise and detail across all light levels. " Meanwhile, white balance when using flash "produces fairly accurate results".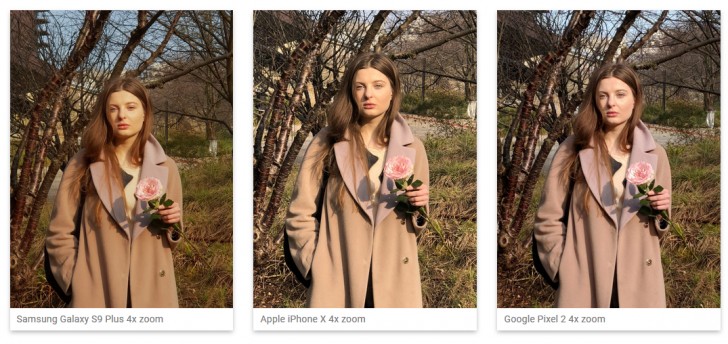 Source: DxOMark
Like the Note8, the Galaxy S9+ has hybrid zoom and offers a Bokeh (Live Focus) mode. DxO was impressed with resolution and detail even at 4X zoom. It also states that Samsung's zoomed images are notably cleaner than competitors. Meanwhile, in Live Focus mode, DxO cited limted dynamic range in this mode with "minor segementation artifacts… visible around the foreground subject,"
The Photo score of 104 points is the best we've seen so far. At 91 points the video score is a little lower but still among the best, making the new Samsung an ideal choice for any mobile users who want the best possible still image quality without compromising on video.
Moving on, the DxO mark covered things like exposure, color, autofocus, flash, texture, and noise. The Galaxy S9+ also scored the highest marks for still images (104) while video scored 91. Areas of improvement include occasional exposure inconsistencies, noticeable loss of sharpness in certain situations, and slight color casts are occasionally noticeable.
We are more than excited to actually test the Samsung Galaxy S9 duo for ourselves. Check out our hands-on with the Galaxy S9 and head to the Source Link to see DxO's full test findings of the Galaxy S9's camera.
s
I don't care what u r saying (Even though what u say does not make any sense to me) ... All I was commenting about u talking it is 99 on 100 or 1 million. Thats not how DxO works .. learn that first before writing illogical comments ... S7 is same a...
Do you ever see the result: https://www.youtube.com/watch?v=p9n4tI6S5Hg&%ADfeature=youtu.be&t=2m36s The petal's color washout is not a natural color condition. The S9+ seem just push the contrast to the limit and increase the saturated fo...
?
What about sony devices? Xperia Z, Z1, Z2, Z3, Z3+, Z5, X, X performance, XZ, XZs, XZ premium, XZ2 are all same. Just different chipsets. Lol
ADVERTISEMENTS