eBay now lets you sell your phone without waiting with Instant Selling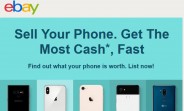 If you're one of the people who buys the latest phone and then sells it second-hand on sites like eBay or Swappa for the newer model, eBay has a new feature that makes it easier to sell a used phone.
Today, eBay has launched a new program called Instant Selling. The idea is simple: enter the details of the device you'd like to instantly sell on this website, get a dollar amount from eBay, add an image of the phone, and get paid the amount given by eBay.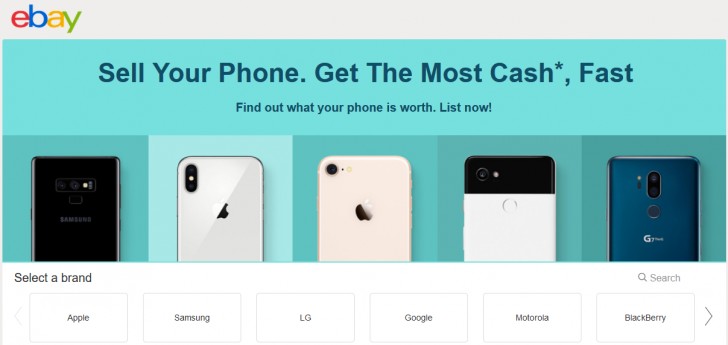 Rather than having to wait around for a buyer, eBay will buy the phone from you and sell it on its own terms. Of course, there is one big caveat to Instant Selling on eBay: you'll be paid in the form of an eBay voucher. This means you can only use the money you get from eBay on... well... eBay. Depending on the person, it may or may not be a good tradeoff.
This comes just in time for Apple's newest smartphone release: the iPhone XR - which hits stores this Friday. During this time, many people will be looking to sell their old devices to help pay for the new one.
There's always the option to trade up with your carrier or sell to another service like Gazelle or Apple's Give Back, but eBay promises that it offers a better value than trading in.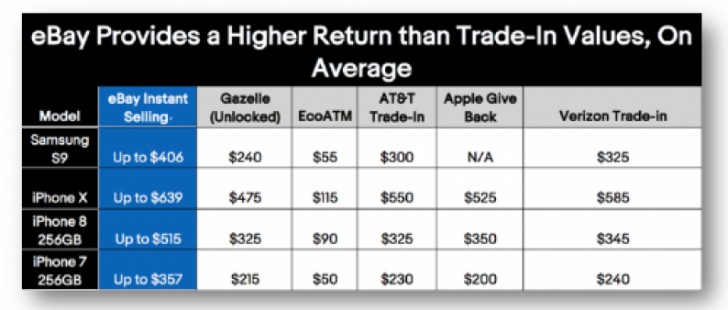 eBay says that 61% of Americans have never sold or traded in a smartphone they don't use anymore. Meanwhile, 40% of Americans have two or more unused smartphones currently in their home. According to eBay, these unused devices could possibly amount to hundreds of dollars.
Here's what you can do to see how much eBay will pay for your phone.
go to eBay.com/s/phone
Enter device info to determine if it's eligible for Instant Selling
If you like the price you see, proceed.
Add images. Click List
Receive an instant voucher, which you can use towards a new device purchase on eBay
Ship by printing out the provided packaging label
Currently, these are the only devices eligible for Instant Selling: Samsung Galaxy S7, S7 edge, S7 Active, S8, S8+, S8 Active, S9, S9+ Apple iPhone 6S, 6S Plus, 7, 7 Plus, 8, 8 Plus, and iPhone X all either Unlocked, Verizon, T-Mobile, or AT&T. Devices on Sprint, Google Pixels, and LG phones will become eligible for Instant Selling in November.
Would you rather keep upgrading through your carrier? The Apple Store? Or would you rather sell the phone on your own terms? Is eBay's Instant Selling something that you'd use to sell your old phone?
m
What the hell are you talking about ? You keep making assumptions, where did I say that it was an Android ? Smh I am selling an iPhone 8 Plus used but in almost new condition and if I want to use the eBay instant selling option I will not get more th...
I wonder if and when this will be available in UK... It doesn't seem terrible judging by the amount it pays, it's also not the greatest. IMO it's always good to have 'another' option if all goes wrong and you need to make up for a new phone quickly. ...
N
Here's your problem 1. It's an Android 2. You are taking the first depreciation and selling in the same year. 3. You probably over paid initially for you device.