EE expands its 5G network with new cities, widen coverage in current cities
EE launched its 5G network in six major UK cities and today it added six more, plus a number of smaller towns. In addition, the carrier is expanding coverage in the busiest areas in the country.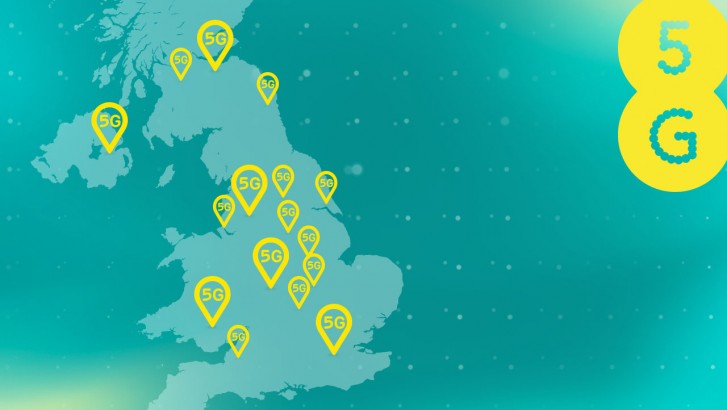 As of today, EE subscribers in Liverpool, Glasgow, Guildford, Maidstone, Watford and Wolverhampton can use 5G – if they have a 5G-compatible device, of course. You can see EE's 5G roster here.
Also, high-traffic areas now have 5G coverage, including Bristol Parkway, Cardiff Castle, and London's Carnaby Street and Camden Market.
Testing by RootMetrics shows EE has wider 5G coverage than its nearest rival, Vodafone. According to the data, 3/4 of tests in London reached 50Mbps or faster, 60% of tests hit at least 100Mbps.
5G Coverage
EE
Vodafone
in London
60.6%
21.7%
in Cardiff
43.4%
14%
in Birmingham
51.6%
10.8%
Testing by RootMetrics
Here's the full list of UK cities and towns that have 5G coverage.
Cities:
London
Edinburgh
Birmingham
Belfast
Manchester
Cardiff
Bristol
Coventry
Leicester
Liverpool
Glasgow
Wolverhampton
Towns:
Ashton-under-Lyne
Castlereagh
Chatham
Clifton
Dudley
Gillingham
Grays
Guildford
Hamilton
Harlow
Hoddesdon
Huddersfield
Kimberley
Kingston-upon-Thames
Lichfield
Lisburn
Maidstone
Milnrow
Oldham
Potters Bar
Rochdale
Romford
Salford
Solihull
Sutton Coldfield
Sydenham
Walsall
Watford
West Bromwich
?
Over priced, over hyped and unreliable, yep that's EE.
?
Because 5G is aggressively being pushed left and right, when in some places I'm still struggling to get a 3G connection.