EE to launch own-branded phone to offer fingerprint reader and dual Gorilla Glass for £100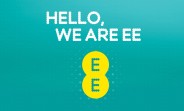 EE UK is reportedly working on a new own-brand phone that will start selling just in time for the holidays.
The yet unnamed phone is rumored to feature Gorilla Glass on both sides, a 5-inch screen likely of 720p resolution and a MediaTek 6755 chipset with octa-core CPU. 13MP back and 8MP front cameras and stock Android complete the highlights list.
EE's phone will be free even on relatively cheap contracts and just over £100 on pay-as-you-go and will be available in the first week of December.
This is EE's first own-brand phone for the last two years (after the Rook and Harrier/Harrier Mini).
D
That's 1 ugly a$$ phone right there :o Looks like an iphone 4 in 2017
LOL hahaha bruh!!!