The EISA awards are out and the winners are not that unexpected. Apple, Samsung and even Sony Ericsson snatched awards in the Mobile Devices panel. There's also the traditional green award.
The European Smartphone 2010-2011 award goes to the Samsung I9000 Galaxy S. It was commended for its exceptional screen and excellent connectivity. Last year that title was held by the Apple iPhone 3GS.
This year Apple won the European Tablet award 2010-2011 with the iPad - EISA says it marks the beginning "a new era for publishing" and praise it for the first-class email handling.

The Sony Ericsson XPERIA X10 mini is the star of the show with its European Mobile Phone award. It won the committee with it's small size and light weight but uncompromising smartphone experience. It's not that we have something against the X10 mini, but we expected this general award to be claimed by a phone with a full set of hardware red and green receiver keys. Call us conservative, if you like.

Samsung scored a second award - it's the European Social Media Phone 2010-2011, which went to Samsung S8500 Wave. The jury has decided that the first Bada OS device offers great means for navigating the always-on super connected world of social networking. If it was up to us, we would have picked some HTC Android smartphone with HTC Sense UI or even one of Sony Ericsson's Androids with Timescape and Infinite button UI, but what do we know anyway! Samsung Wave seems better suited for the award X10 mini got.

There are two more awards - the European Headphones 2010-2011 award, which was grabbed by Beyerdynamic T 50 p, and the European Portable Navigation Device 2010-2011, won by the Garmin Nuvi 3790t.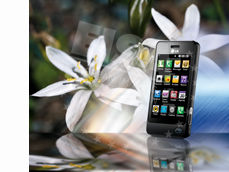 As for the traditional green award, it went to LG again - this time the winner is the LG GD510 Pop. Its efficient packaging, low energy consumption and use of recycled materials were well ahead of what the competition had on offer. Never mind, Sony Ericsson's Elm and Hazel.
The strangest thing is that the Camera Phone and Music phone awards are gone this year. It's a shame really, we always fancy a good laugh, which is usually the case when you issue awards that try to be politically correct more than anything else.
C
im getting the galaxy s on my new contract...yea,we south africans are abit slower in the phone market....basically i just wanted any phone better than the N97,as my bro & cousin have those....the galaxy kills em by faaaar!!!!
B
galaxy s kickass the iphone
ADVERTISEMENTS