Xiaomi 11T and 11T Pro will get three Android upgrades and four years of security patches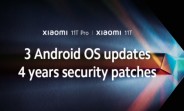 Over the past year or so more and more Android device makers have come out with promises of extended software support for their smartphones, with Samsung perhaps extending the support window for the biggest number of models.
Notably absent so far from this new game was Xiaomi, but that all changes now. The company has just announced that the upcoming 11T and 11T Pro will get three major Android system updates as well as four years of security patches from their launch, which according to rumors and teasers should happen during an online event taking place on September 15.

It's great to see Xiaomi issue this kind of promise, and we hope it will extend the courtesy to many more devices in the future. That said, the company's press release specifically mentions that "other devices are not included at this time", so we'll have to see how things go from here on out. The company does say that it will "evaluate the possibility of bringing the extended Android system and security upgrades services to more Xiaomi devices", so we're keeping our fingers crossed here.
Albert Shan, Head of Product & Technology at Xiaomi International said: "With the continuous improvement made to smartphone hardware, the life cycle of a smartphone is gradually lengthening, meaning users aren't required to replace their smartphones as frequently. For this reason, more consumers place great importance on receiving the latest operating system updates, along with the latest features". We're definitely happy he noticed this trend, because it has been ongoing for quite a while now.
Shan added that "it is not a simple task for Xiaomi and its team to provide system updates and security patches to all of its previous smartphone models. However, the prospect of this challenge and meeting the desires of our customers is exciting. On one hand, we're once again fulfilling Xiaomi's brand promise to its global users - to provide amazing products. On the other hand, gradually extending the service life cycle of Xiaomi smartphones is a progressive move that furthers Xiaomi's sustainability and environmental responsibility goals".
?
The 11X still scores 4.1 out of 5.0 stars from nearly 28000 buyer reviews, which is far from 'the worst'. Try harder next time, hater.
T
Mobile phones can only get as much updates as the manufacturer of the SoC updates drivers for their chips.! Qualcomm provides lyk 3years of driver updates, and that's why most android phones can't go past 3years of os updates. But that migh...
ADVERTISEMENTS