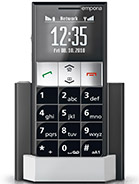 ?
At last, perfect phone for me....
J
A phone without a manual is worthless. Tried to find the right manual online. I need the manual for THIS phone in English, not manuals for similar phones.
T
i think this phone is very good and performs well, I have had it for three months and I have no flaws to report on
B
Hi: Have the phone about 2 months and love it. I charge it on the cradle in the house. However I REALLY need a car charger and cannot find one with the unique pronglike attachment. Please help. Need to have cell charged at all times. Thank you
Total of 4 user reviews and opinions for Emporia Essence Plus.