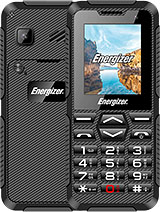 ?
The incoming KaiOS ones will be better. Now KaiOS has FB, Twitter, WhatsApp, google maps, google assistant, youtube, it's going to be a pretty solid combo for a flip, or ruggedized phone with decent battery life. They got some nice ruggedized candybars for the outdoors (hopefully high IP rated), and some nokia 3310 style ones for festivals and travelling. Let's hope they give them better buttons, and slightly more CPU power than the recent nokias (that were just slightly too weak).

Still wondering why people do t9 with these. BB Bold/Q5/Q10 was small and SOOO much better to type on.
?
AnonD-844967, 01 May 2019Good for call Perfect price tag I like the flashlight placement -
Total of 3 user reviews and opinions for Energizer Hardcase H10.