Update:
We finally managed to corner some Energizer representatives and they gave us a few specifics on the Power Max P16K Pro. First up, it actually tips the scale at 350 grams, so we were a bit off there, but not by too much. Charging is done using the USB Power Delivery standard and the battery can, apparently, be topped off in 90 minutes. Far less ideal, however, is the news that the phone can't be used as a power bank to charge other devices.
Still, that being said, the reps did stress that the device they brought along with them is a very early demo unit. They aren't sure when it will go into production or what will change along the way. That king of explains why it doesn't boot and the mystery still surrounding the camera setup. As far as we managed to gather, both the front and back secondary snappers will be leveraged for bokeh effects, not telephoto or anything else. Android 8.0 is also mostly confirmed, for whatever that's worth.
Original article follows:
In case you are not familiar with Energizer's mobile portfolio and the company name isn't descriptive enough, the brand specializes mainly in rugged and high battery-capacity devices. The newly announced Power Max P16K Pro, however, takes the battle with battery endurance to a whole new level, with a massive 16,000 mAh pack.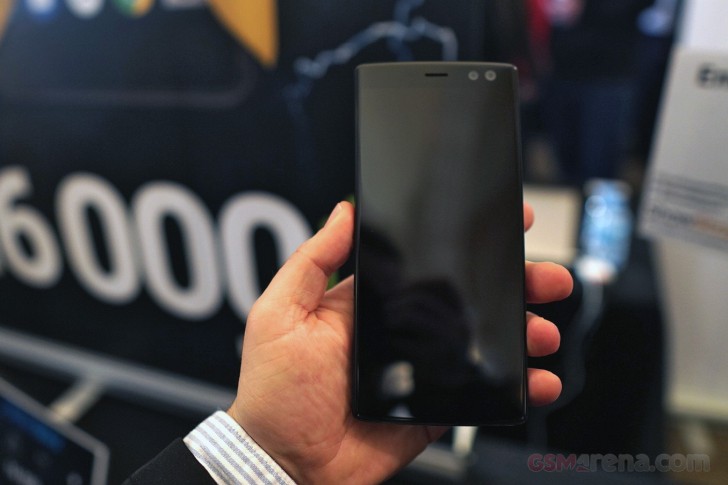 That looks pretty nice on paper and the PR team at Energizer clearly had a blast, coming up with the punny and technically correct "The most powerful phone at MWC" slogan. Still, we stopped by at the company's booth to try and see just how usable the Power Max P16K Pro actually is as a smartphone.
The experience was kind of a mixed bag and mostly what we expected. The 5.99-inch 18:9 device is a beast with almost unwieldy proportions. Unfortunately, despite our best efforts and insistence, we couldn't get any precise dimensions - a pretty important aspect, in our mind.
We stacked it up with an iPhone X and to the best of our math, the Energizer Power Max P16K Pro is about 15.2mm thick. It also felt understandably heavy. Say, about 300 grams, if we had to venture a guess. So definitely not reasonable by 2018 smartphone standards, but still actually pretty decent for a 16,000 mAh power bank, with an embedded Android phablet inside, if that makes any sense.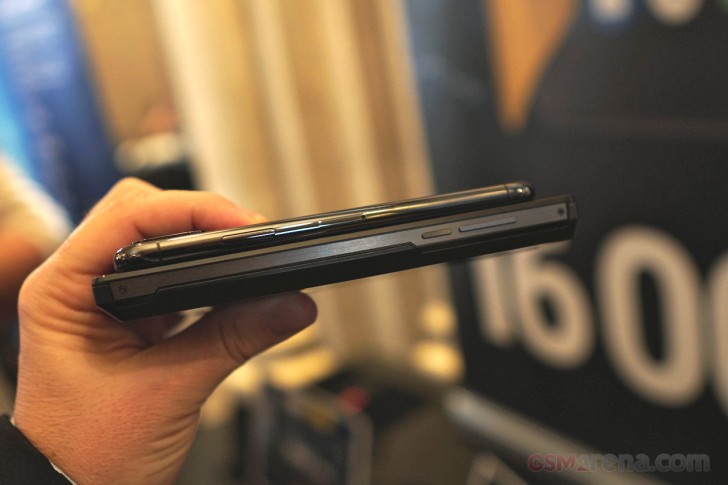 On a more positive note, despite its girth, the Power Max P16K Pro is conveniently shaped with plenty of sharp angles, so it actually provides a decent grip. Holding it up still feels like exercise, but at least it won't slip away and break the floor tiles.
That's the other thing, in typical Energizer fashion the Power Max P16K Pro feels really sturdy and looks like it can take a beating. The exposed bolts on the sides definitely reinforce that feeling, even though the body seems to be plastic. Probably a good thing too, seeing how it really doesn't need any more added weight.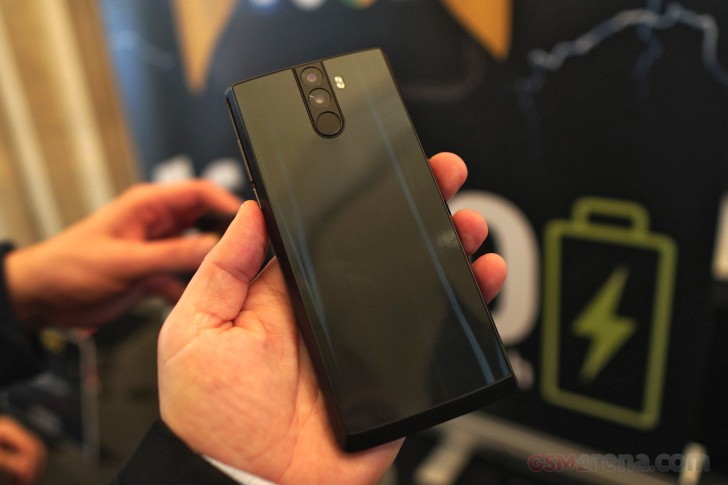 Looking around the phone, we also spotted a 3.5mm audio jack, a dual camera setup on the back: 16 MP + 13 MP, complete with a dual-tone flash, as well as a pair of snappers on the front - 13 MP + 5 MP. That's one more selfie than the Energizer Power Max P600S, which other than battery and dimensions, looks pretty similar to the P16K Pro. So, naturally, we were excited to test it out.
Unfortunately, the demo unit Energizer had to offer was a dummy (or was bricked) so it did not power on. Quite disappointing since we wanted to see just how fluid of an experience the company managed to build around the Helio P23 chipset. While on the subject, we have to wonder if it was the best choice for making proper use of the humongous 16,000 mAh battery. But that can only be determined through testing.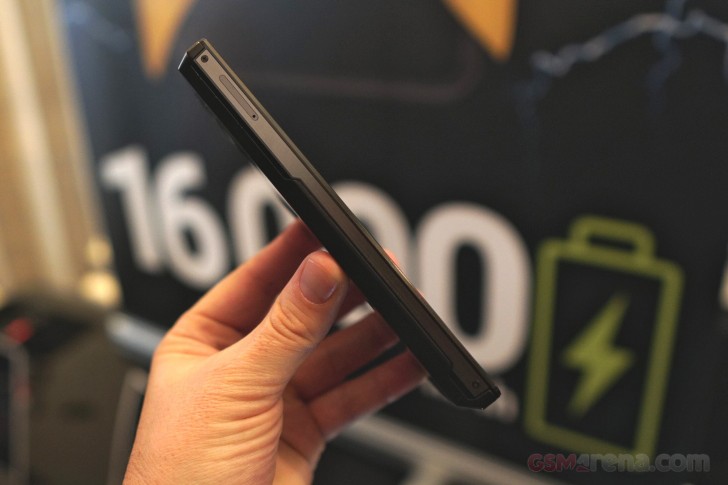 Another question sadly left unanswered is just how fast the advertised 12V USB Type-C fast charging can top off the phone. And perhaps even more importantly, whether or not it can serve as a power bank to charge other devices on the go. Since the Power Max P16K Pro is advertised as running Android 8.0 Oreo and it does have a Type-C port, our best assumption would be that is should be able to switch between a client and host in the charging process.
C
No there isn't, unfortunately
ADVERTISEMENTS