Samsung has just announced an enhanced version of its Exynos 5 Octa chipset. Currently the Octa chipset is available only on the I9500 Galaxy S4 flagship.
The second generation Exynos 5 Octa might be called Exynos Evolved and will be officially presented next week. So far the teaser just says it's "a more powerful, enhanced Exynos 5 Octa".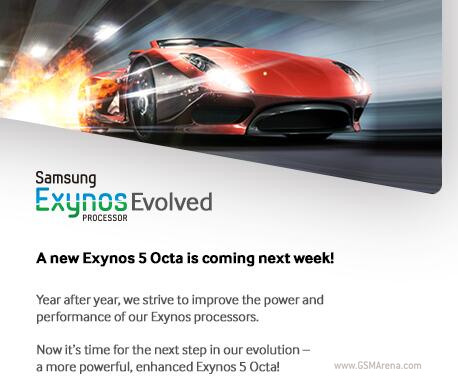 It seems Samsung is launching the new chipset just in time for the Galaxy Note III that's supposed to be unveiled in September and launch this Fall. The smartphone has been in the rumorlands for quite a while and it should be available in a couple of versions - one with Snapdragon 800 and another one powered by this improved Octa chipset.
Samsung promises to bring detailed specifications and more details on the new Exynos next week. Then we'll learn more about its GPU and the exact clock speed of its eight cores.
?
????????? Reworking the system does not change it. It's the evolution of Windows mobile. Not an entirely new OS. Another completely illogical comment from you like always.
D
again commenting about something you don't know...windows mobile was completely different os from wp8,and even wp7 had a different kernal than wp8,which uses kernal of windows 8....besides the market share i mentioned is of wp8 alone,the total share ...
?
And again. Why does your ID and IP constantly change? And why do you bother even trying to dalk down upon others for having no ID if yours and your IP is always different? That's even worse.
ADVERTISEMENTS