It was about time! Vodafone is the last one of the UK majors to hop on the iPhone bandwagon. Vodafone UK customers wait is over: as of today they can get an iPhone with varied prices and plans.
As we told you nearly a month ago, January 14 was the day Vodafone UK chose to start selling iPhone 3G and 3GS. The prices have remained untouched since then. If you plan to get yourself a 16GB 3GS you can get it for free but prepare to pay 45 pounds each month for the next two years.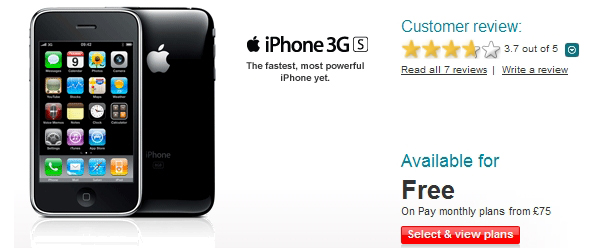 As expected, the 32GB version of iPhone 3GS is way pricier: at first you won't pay a dime but afterwards there are 24 monthly fees of 75 pounds each.
If you are on the budget, you can go for the 8GB iPhone 3G, which comes for free on the 35-pound tariff.
Those prices seem fair not only to us but also to many Vodafone UK customers which have decided to purchase an iPhone. Reportedly, 50 000 units are expected to be sold today. We somehow doubt it as Orange's first day of sales reached only 30 000 iPhones sold.
Along with the iPhone launch at its stores (on- and off-line) Vodafone releases two special apps for the long awaited smartphone. The free Vodafone 360 People Sync App will help customers flawlessly transfer their contacts to the iPhone from almost 500 supported phones.
And as far as the next app is concerned, this is the Vodafone Navigation App which brings voice guided turn-by-turn navigation to the iPhone. Till the end of April 2010 you will be able to use it for free but if you decide to keep using it afterwards, you'll need to pay 3 pounds each month until your contract expires or 5 pounds if you go for the month by month option.
R
Well in the latest research (commissioned by 02) the winner was . . . . Vodafone! Found to have the strongest network available with the Iphone. This was then backed up by research done by the Telegraph newspaper. O2 were happy to come in second but...
?
the nz iphone is fully unlocked - and still cheaper to buy outright
ADVERTISEMENTS