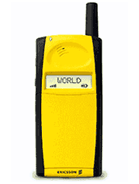 S
I have a Ericsson GF 768 with Blue colour. It's my first PONSEL. I enjoy with some menu in GF 768. But Can I upgrade my GF 768 to T10S. Please send me some information about GF 768 or maybe T10S. Send GF 768 information to me

Syamsoel
Jln. HOS Cokroaminoto 02 Bantul Yogyakarta 55711 Indonesia

Thanks for your attention. I like Ericsson Product.
J
Hello. I think this stupid gf 768 is really more like ............ I canīt ghet the right name for it itīs more like ............ SHEET !!!!!
I whant to thank you for this opportunity to express my fillings about this stupid phone ! Bye.
I
I believe received calls are not available,if any1 knows how to retrieve plz let me know!
Total of 46 user reviews and opinions for Ericsson GF 768.