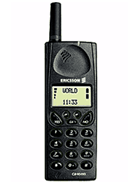 B
Propably the best phone I ever had, please take note, I'm using right now a Siemens S45. The Ericsson 688 never failed, had the best ear-speaker ever, with which you would understand people even in noisy environment, and due to its durable frame it can drop w/o any damaging! I'll go for it again!
v
this is not the dual band hand set, thatswhy i am phasing so many problems.it's not receiving signals that much quickly.and it's having so many bad features.
s
want to know about desktop hook up of gh 688 what is required software and hardware
k
this phone felldown many times from my pocket but did not break or got damaged....so it is the best fone(phone)..
N
A rugged phone- aluminium frame protects
the phone well. The antenna breaks if dropped- the phone stays alive.
Not too small, easy to dial with small
tabs on some buttons-a good for people with not s good eyesight.
Total of 71 user reviews and opinions for Ericsson GH 688.