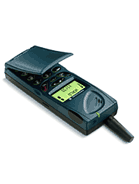 A
Heyyyyyy I bought it 1999 during my visit to friend in NY . I used it only for 2 weeks. I still keep as a great memory . it was a very nice handset. Its still look like a brand new one.
P
Absolutely awesome piece of engineering. I still have (and use) the original one I bought back in the late 90s. Wish there was a modern day quad-band equivalent, instead of being filled with features that no-one uses.
?
I owned this phone back in the early 2000's when most phones for the US market were only of the 1900Mhz type. Heavy as a brick and could easily double as a weapon, but I loved it. Lost it getting out of a cab one day and still miss it to this very day. Great phone for it's time...
M
No post has been posted in a long time, it's good to post something again..
v
This is my all time favourite phone (and note the date and the fact I own a T39 and have owned an 8890 in the past!!!)
Total of 8 user reviews and opinions for Ericsson I 888.