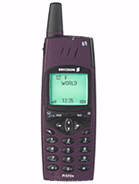 g
I don't like it. Large, heavy, weak vibrations, distorted sound. Wap is indeed just an expensive joke and i never used the IR or the Calendar. If anyone can offer a T28s or T29s for change i'd pay the difference in money. Oh, and if you need all the fancy features plus HSCSD, save some money and go for Nokia's 6210
M
Great features for the price (at least here in Romania), especially the fast WAP browser and the IR port. The menu is too slow and the design is at least curios. I would have bought it instead of the T28 if it was just a little bit shorter. This is certainly not a phone to hold in your jeans' pocket.
b
Just right!!!
has everything which i want, wouldve been nce were a bit smaller in length
a
why does a lovly little phone like the r320 only hold 99 numbers, I have more inchs on my waist than that!!. I have a ti250 tri-band orange motorola which is a joke,poor software, poor screen, in fact an awfull shit screen,and the most homosexual ringtones known to man ,the only bonus being 400 names&number storeage. Do Ericsson have a phone with a decent memory? I once owned a 237 Ericsson and it was a great little phone . do I have to buy a 7110 nokia? your help please
E
This is Perfect Mobile Phone, but....could you tell me how to know software version on this phone, may be I need to upgrade !! Please send to my e-mail, ok ?!
J
A classic phone to own. Rugged yet classy. Masculine, sublime, intelligent, and slim. It's not perfect (it's slow) but it makes anyone look smart even when 3-G phones appear 5 years from now. It's made for down to earth humans.
R
I just bought my new phone last week. My previous phones were all Nokias. 6150,3210, and 3310. I was not that satisfied with these phones. One of them, the 3310 broke after 3 weeks. I was so frustrated of buying Nokia phones. I tried out the R320. I've heard a lot from this phone, and so far, I am very satisfied with it. The WAP browser was fast although when I'm composing long SMS messages, the phone slows down. But I've experienced it in many phones. So over-all, it's a well built phone. I give Ericsson a thumbs up. Keep up the good work guys, and I wish I could find more accessories for my new phone here in the Philippines. Thanks!!! :-
r
try reading the opinions page.
S
I hate myself for making the decision to buy this phone.
1. The keypad is so damn slow
2. Phonebook is difficult to access and to use.
3. The big screen can only hold 3 lines of names instead the-should-have 5 lines.
4. You can't view the phone numbers directly but have to wait for the phone to display it to you. Stupid design, eh?

Above all, don't even think of buying this phone. Go get Siemens or Nokia. And to Ericsson: fix that slow keypad, will ya?
E
Not bad, except for a (very) slow keypad response and faint ringing.
Total of 132 user reviews and opinions for Ericsson R320.
ADVERTISEMENTS