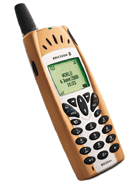 e
I'm sorry, but no1 of Ericssons new, more advanced gsm-phones, will be released in america 4 a long time, maybe q3-4 next year, I no it's unfair. But look at japan, they allready got 3G and almost all of their phones got full-colour display, they support java, so that's unfair to europe.
S
Its a great phone, but mine it's has been stolen, so if u are a rich men and if u wanna help me to get a new one , write me.
J
This is a great phone. After owning a series of Nokia (latest being 6210) I'm glad I made the transition. Nice big display, feature rich (Bluetooth, WAP, GPRS, etc.), and the magnesium back is actually reassuring to me. I don't find it "ugly" because to me it means solid quality construction.
F
I went out to buy this phone at the weekend only to be stopped in my tracks when I saw the rear of the phone. I was so disappointed, this phone has so many features it just begs to be bought however it looks like Ericsson didn't have time to finish the rear. It looks tacky and the black battery sat in the middle looks terrible, I'm sure it's meant to contrast but it doesn't. Someone please tell me I'm being stupid and should still buy it!! Anyone else think the rear looks unfinished?
S
This is my fifth ericsson phone (T18,T20,R320,R380) and it seems to get better and better- The R520 is definitely a step in the right direction.
l
is the r520m available in america yet? will it support the voicestream sim card
thanks
A
I also forgot to mention that the sync program that ships with the R520m to synchronise with outlook is NOT working, and is not yet available for d/l on any website.
A
I have this phone for 1 month now, I HATE his look (I hate ericsson, I am a nokia man- i bought it for gprs) its features are fine but his software is not user friendly at all (mowhere near Nokia) battery lifetime is fair provided you dont use IR, i recharge my phone every night if I use IR for one hour (dont beleive what they say about the battery) if you dont need GPRS go for Nokia 6210 or even 9210.
Total of 94 user reviews and opinions for Ericsson R520m.