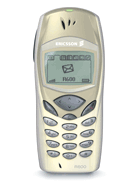 E
Yes I do agree with you that this is a great phone, and I do know from own expercience that it is good, I tried it on a showroom at Ericsson. It is true that the R600 will be very cheap, about US 160-200 when it's released in Sweden, Finland, Norway and Denmark in early December. I'm not sure when it will arrive in other countries than mentioned above, but what I'm sure of is that these countries allways gets all gsm-phones first.
R
fantastic fone!! I want to know about the price. And when can I have this GREAT fone? Ericsson, WELL DONE! So long nokia....
?
i think that after those new handsets ericsson has taken the lead when it comes to makeing mobile phones .. i wonder what it will be when we see the first sony-ericsson handset ..
A
Hey "I wonder",
Ericsson T68 was announced first. Compare it's specs to T65, T66 and R600 and you will see.
E
can´t believe there´s no infrared-port in the new ericsson phones (T65, T66, R600), there would not be the need for GPRS without it!e verything else about the new phones is great. If you don´t like these, go and get the color-blinding, flash-lighting toyradio from nokia which you can also use as a phone... 8310.
?
i wonder ! ppl here in the site said that ericsson r scalling down after the t65 ! now after t29 t39 t65 t66 and now R600
..wow dont u think that who wrote that they r scalling down need an eyes glasses
q
And i thought the phone looked like a nokia, just goes to show ppl did not like the original square designs of past ericsson phones and ericsson heard the masses.Bravo, the phone looks brilliant.
P
I agree. Now Ericsson is showing an extraordinary productivity. And the new phones look super!
I have heard that the R600 will cost about 1500 swedish kronor. About 150 USD.
Very good price for a phone with such specifications!
Total of 173 user reviews and opinions for Ericsson R600.