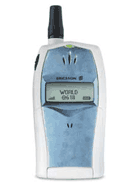 S
Great cell phone! One of the best buys these days. One of the advantages over T28s is the WAP - surely a useful tool. The advanced graphics system and the outstanding design make this phone a jewel. It outbeats the Nokia 3310 in many aspects. But I am still waiting for the launch of T36. Could anyone please supply me with any info about it? Thanks in advance.
U
To the confused and unknown opinion sharer of 2001-01-15 07:15:42, let me honestly affirm that the T20s is the most practical and powerful mobile phone on earth in terms of standby time and talk time. No other mobile phone gives one peace of mind in relation to long lasting battery than the T20s. The Nokia 3310 or an other phone for that matter cannot compare with the T20s favourably. Check out the cute design of the T20s. Look at the features, memory, language selection, messaging and W@P capabilities, etc, etc.
This T20s thing is really designed to touch one's senses. Go for the T20s if you want the smartest, most powerful and creatively stylish, trendy phone on earth today and perhaps in some years to come. Like I mentioned above, the most outstanding feature that gives the T20s its numero uno spot in mobile telephone history is its standby time and talk time powerful capacity-200hours and 10hours respectively. This is incredible performance compared to any other phone out there. Probably, the Nokia 9210 communicator might take second. But its too bulky for one's pocket, and not sleek and cute enough. The T20s is the real thing! I am saying all these because I am a fufilled owner of a T20s. And I've tested its performance in comparision with every other mobile phone out there.
You can't beat this T20s essence!
T
Just bought one a week ago and its a great phone for sure! Got a 3210 before this one, reason I wanted this one: NOT everyone has got one as with the 3210 and 3310... There just this one problem...I've lost my manual..is there any PDF format manual online or something like that??
A
when can i buy this cell phone and where, and how much is going to cost,
mi opinion is that this phone is great for anyone
j
Excellent talk & standby time. Firmware needs some work though. It would be great if it had t9.
U
Indeed, Ericsson T20s is the real thing one has been
waiting for. I bought mine for 390 Swiss Francs a
week ago. And I just love its cute design, quality
perfomance and enchanting features. Surely, Ericsson
did way by saying: "Designed to touch your senses".
Sincerely, as a creative Writer, or just as a human
being, I must unequivocally admit that my T20s is a
wonderful inspiration to my creative soul. Buying the
Ericsson T20s is a timeless investment I am so glad to
have made. Thank you so much ERICSSON for the
T20s. This thing turns my creative senses on. I am just
calmly wild about my T20s! You can't beat the feeling!!
S
Does anybody know the price of this gsm?
Because I'd like to buy one if he is not to expensive.
a
I would like to ask You something.
Can you,please,send me a price of ericsson T20s,please,

thank You
A
The MP3 player is not inside, but outside. Ericsson sells it as an additional module. Just like the Chatboard.
j
hello, does anyone know whether there is a MP3 player insider this T20??? Cause i saw the newspaper put that it have.
Total of 114 user reviews and opinions for Ericsson T20s.