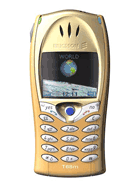 R
i really think this is a nice little phone, but i would like to get more info on it !!! Price, menu functions, memory functions ... wheres all that !!!
if anyone has some info for me please email me with it if you dont mind .. THANX
a
Walaweh!!! Got color oledi ah... GPRS and Bluetooth somemore... WAP 1.2.1!! Latest Version ah! Maybe now those nokia freaks will wake up!
L
For the first time ever, I think this Ericsson is worth considering. Never liked their phones because of poor ergonomics and small screen which probably explain why they've lost so much market share. This phone probably still has their stupid menu system but the feature set and screen size is attractive. Colour is probably not critical. Maybe a cheaper monochrome model will be released later.
Total of 666 user reviews and opinions for Ericsson T68.