We haven't heard anything from Essential since the company announced the PH-1 and then took pre-sale reservations. Andy Rubin has previously said that it was not going to ask for reservations if the phone wasn't going to be available soon thereafter. Well it looks like Essential is right on track because today, the company's PH-1 has gone through FCC certification.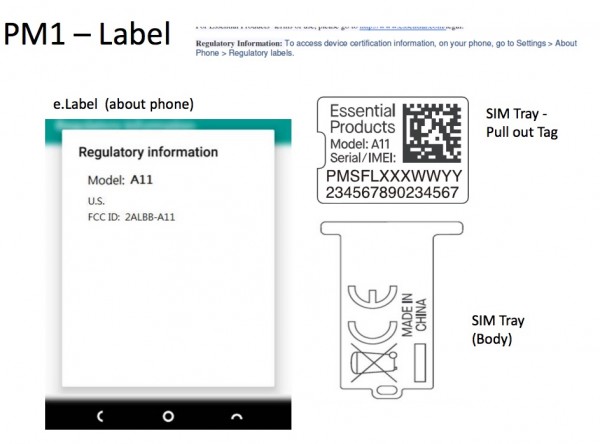 Source: FCC
The FCC is what puts a stamp of approval on all smartphones and communication devices that are sold in the US. The Essential PH-1 is the name of the model while "A11" is the variant code. The FCC documents also reaffirm that the Essential phone will be compatible with all major US carriers including Sprint and Verizon, which require CDMA radios.
Something's cooking ;) Stay tuned...

— Essential (@essential) June 25, 2017
In other news, the Essential PH-1 may actually carry some sort of water resistance as well. On Twitter, Essential has seen many curious fans ask of the phone's whereabouts, as well as one Twitter follower who asked about water resistance to which Essential replied: "we're finalizing the testing to validate our official IP rating."
Hi there Ahmed, we're finalizing the testing to validate our official IP rating.

— Essential (@essential) June 26, 2017
While we still don't know what kind of water resistance the PH-1 will have, we have some kind of hint that it may at least be IP5X, which would protect the phone from light sprays of water such as if you were to get caught on the phone with sudden rain. Still, this doesn't confirm whether the PH1 will be submersible at all.
Anyway, we're still waiting for the Essential PH-1 to drop any day now. Are any of you still interested in the Essential PH-1 or have you jumped on the OnePlus 5? Then again, if you're a Sprint customer, the OnePlus 5 isn't even an option since it doesn't support CDMA networks.
F
An rating of IP5X would indicate it is not entirely sealed against dust, and has not been tested for water exposure. The first digit is Ingress Protection rating of solids, the second liquids.
D
actually..its different these days..each cpu is customized differently ..so they place everything in the cpu...the antenna bands though simply transmit the signal
N
Snapdragon is a CPU...It doesn't even matter what CPU it has, it's about the antenna/radio they implement on the device!!!