Update: Aside from Best Buy, Amazon is also offering this extra $50 discount now. A quick look at the phone's listing on the retailer's website reveals the Pure White model is being offered for $449.99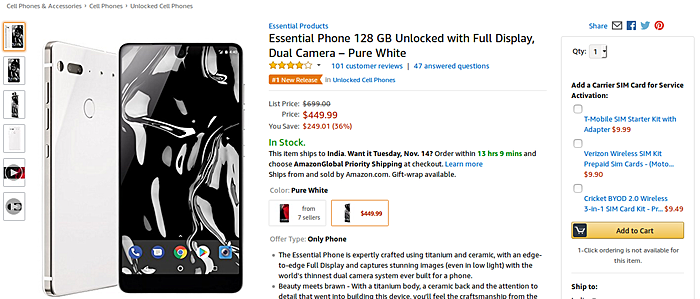 Original story follows:
Around a couple of weeks after it came to light that Essential has officially dropped the price of its debut PH-1 smartphone by $200, the device has received another price cut in the country. Best Buy currently has the phone listed for $449.99.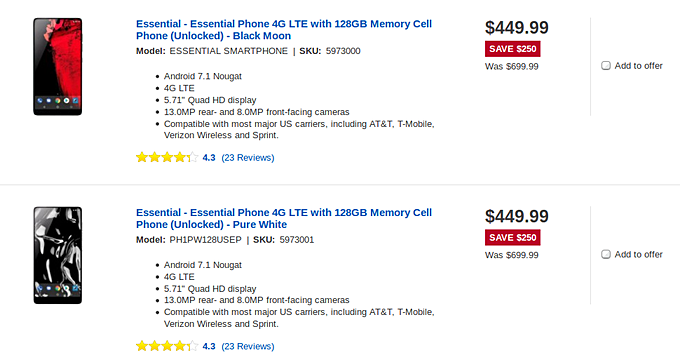 That, if you calculate, translates into a discount of $250 over the handset's launch price. And if you have a Friends and Family code, you can save even more.
What's, however, worth mentioning here is that this extra $50 discount is currently not official, meaning Essential is still selling the phone for $499.
For a limited time, Best Buy was also offering the 360 Camera accessory for $49.99 (down from $200), but that deal has seemingly ended. For more information, head to the Source link below.
D
Thanks for your input I'll consider the Mi6 even if I hate MIUI, but I'll also wait and see if the Essential drops under $400 before the year is over lol
D
on a 400 - 500 USD/Euro budget i would go with the xiaomi mi6 or the oneplus 5(T) - ok the oneplus is a bit more then 400 bugs. as an alternative you could try to get a good deal on ebay for the samsung galaxy S8 or the Sony XZ1 Compact. fo...
D
What would you recommend?