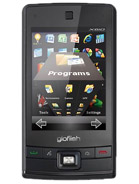 V
i hv used this handset its very gud very handy to use its looks is very gud i luv this phone..one very gud thing i hv a new girl friend these days n that just bcz of this phone, iluv my phone..
c
Trust me m8 you really don't need anything with Eten logo on it
X
Well....it's looking good
Seems like it have many features and apps..?
C
I just return one, after 3 days of testing… after all Eten have loooong way to go. compare to my tytn2 I'm giving 5/10.
X
Think twice, before decide for any ETEN!! Mine X800 has to be repaired under waranty and Eten wants, that I send it on MY expences to Taiwan. In such case I have also in/out (so, twice) EU CUSTOM procedure. If YOU have time... I don't and I'll just trash it.
Z
Guys..this beauty already release in Russia back few days ago..watch it in Youtube!!
?
its really nice.... any news on release?
t
if money were no object, I'd probably get the HTC Diamond or Samsung Omnia, but I'm looking forward to this one if the price stays right.
?
From the looks of it, this one should be in the spotlight too. Enough of those diamond and omnia
?
from the pic it seems 610 has SPB Mobile Shell pre-loaded....
?
Unique, 05 Jun 2008have eten seen the competition out there ?? lol need to keep you with the times Htc are dest... moreya if u wanna pay like $1000 for an htc phone...
N
Obviously E-ten's X6** series are targeted at consumers who intend to have a PDA phone at a lower price. So why compare the X610 with other superior PDA phones? I think its good to have diversity in the market, it benefits the people.
U
have eten seen the competition out there ?? lol need to keep you with the times
Htc are destroying the Window mobile market with some good handsets
C
xotiq, 04 Jun 2008146g is heavy...isnt it???Not really, I have the TYTN II. of course you do notice the difference/change in weight compared to "normal" feature phones. You do however get used to it.

IMO the TYTN II is weighted beautifully.

Regards
Christov
x
146g is heavy...isnt it???
Total of 155 user reviews and opinions for Eten glofiish X610.
ADVERTISEMENTS