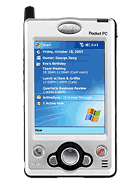 b
When this phone was launched it was unique in not having a camera, apart from that it was a robust device that did everything you could reasonably expect from it. Having both a CF and an SD card slot allowed a memory card AND some potential for connectivity options - CF adaptors being common place for Bluetooth and Wifi-both of which were not as common on phone as they are now. a brick but a good brick.
j
u don't just look at the wall and create a mobile wth the size of the wall.looks like a book or a brick.and the design of eten are all the same.truck loads of bricks.
Total of 6 user reviews and opinions for Eten P700.