EU prices of the Moto G5S and G5S Plus to be about €300 and €330 respectively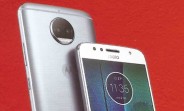 Prolific things-finder Roland Quandt has dug up information on European pricing of the upcoming Moto G5S and Moto G5S Plus. According to a tweet of his the smaller model will carry a price tag around €300, while the Plus will command a small premium for a total of €330. He points out that the numbers come from Eastern Europe.
Motorola Moto G5S will be ~300 Euro.
Motorola Moto G5S Plus will be ~330 Euro.
Again, prices from eastern EU.

— Roland Quandt (@rquandt) July 28, 2017
We've previously heard a number in the INR20,000 ballpark for the Moto G5S Plus in India, which equates to about €265, so EU prices are higher.
The Moto G5S and G5S Plus are shaping up to be surprising updates to the still recent G5 and G5 Plus. Perhaps the most notable change is the dual camera of the Moto G5S Plus, which is rumored to be 2x13MP, instead of the 2x12MP of the G5 Plus. We'll need to wait until their official release for an answer to the pressing 'Why?'.
D
Totally agree with you all phones in Europe are overpriced there in Italy u can buy only Samsung or iPhone if you want something else you can find shit with MTK CPU that's why I had to fly to London to buy a phone
V
Flowless, you know nothing about phone and gai to