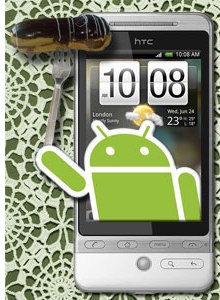 The long wait is coming to an end - the HTC Hero is finally getting the Android 2.1 update this April. The CDMA version of the Hero is getting the update too, a bit sooner in fact (March 26). But it's the GSM version that interests us, so here it goes.
The Android 2.1 Eclair update for the HTC Hero will begin rolling out in European countries in April. It won't happen all at once, some countries will have to wait till May to get it.
Here's what the schedule looks like:
• Nordic countries, Greece, Russia, Ukraine, Saudi Arabia - April 2
• T-Mobile UK - April 16
• Orange UK - April 16
• Orange Spain - April 16
• T-Mobile Germany - April 16
• Orange France - April 22
• Vodacom South Africa - April 22
• Hutchison 3G UK - April 22
• Belgium - May 4
• Turkey - May 4
• T-Mobile Poland - May 10
• T-Mobile Hungary - May 10
• T-Mobile Macedonia - May 10

Now, strictly speaking this isn't official but the XDA forums are a pretty reliable source of information.
So, HTC Hero owners might want to put off buying an HTC Legend for now. After the update, the Hero will be brought into the world of Eclair - check out the change log.
L
is anyone got 2.1 for unbranded (white one)in uk? i'm still waiting! i'm using it with three - should i get update for three device or for unbranded one? anyone? please advise
M
Current date is April 3th and no update is available in the nordic countries - seems story sadly to be just another hoax.
ADVERTISEMENT