Today, Motorola announced the European version of its Droid RAZR flagship Android smartphone. Dropping the Droid part of its name, the Motorola RAZR is every bit as hot as its US cousin.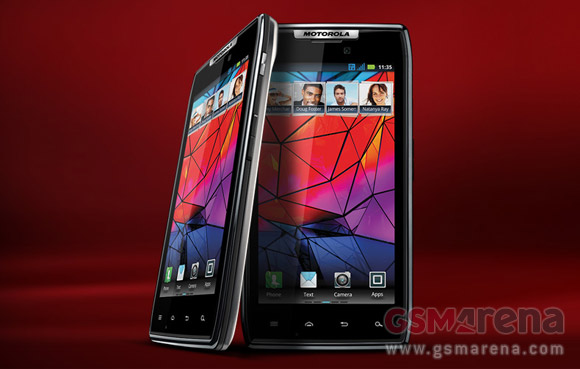 The Motorola RAZR is among the slimmest Android smartphones on the planet with its thinnest part measuring just 7.1mm. The impressive profile is complemented by a 4.3-inch Super AMOLED Advanced screen of qHD resolution (960 x 540 pixels). According to Motorola the Super AMOLED Advanced technology is 25% more efficient than the Super AMOLED Plus display used in the Samsung Galaxy S II.
As for raw computing power, the Motorola RAZR is powered by a OMAP 4430 chipset with a 1.2GHz dual-core Cortex-A9 processor and 1GB of RAM. The Motorola RAZR platform of choice is Android 2.3.5 Gingerbread, but its manufacturer has vowed to update it to the newly announced Ice Cream Sandwich in Q1 or Q2 of 2012.
The Motorola RAZR is expected to ship in the UK some time next week. It won't have any carrier exclusivity, so a SIM-free price should pop-up as soon as next week.
As we attended the Motorola RAZR launch event we are able to bring you a bunch of live photos of the smartphone. Stay tuned for our RAZR hand-on, complete with more photos, videos and first-hand impressions, which should hit our homepage later tonight.
?
There is a difference then having a couple better features and beating out. Thr Droid Razr will be amazing and will have a couple better features, but it in no way shape or fom beats the SGS2. Nice try.
?
It's not surprising Moto adopts AMOLED screen on this phone.
x
yea now thats what am talkin about 1080p and 1gb and 1.2GHZ dual core process.or *tchk* heart attack
ADVERTISEMENTS