In early October, Facebook launched a new mobile app for iOS. It's called Events from Facebook and is basically all about letting you quickly find stuff that's happening nearby. Today, the app has finally made its debut on Android as well. It's up for grabs from the Play Store, but geographical restrictions do apply so it may not be available in your country unfortunately.
Like its iOS counterpart, Events from Facebook for Android gives you a quick glance at what you have coming up today. You can also see what events your friends are participating in, and instantly find new things to do, as you explore events near you, no matter where you are. It lets you keep track of all your upcoming plans, with important information about each event being easily accessible. For every individual event, you're told which of your friends are attending.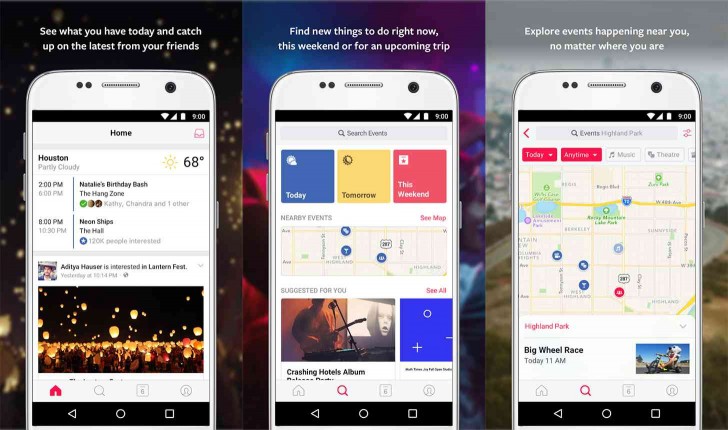 Since this works seamlessly with Facebook itself, your friends will see what you're interested in and what you've invited them to even if they don't have the dedicated Events app. You can see events near you on an interactive map and filter the results based on time and event category. You will get event recommendations based on what your friends find popular, where you've been in the past, and Pages you like. You can add calendars from your phone so you'll have all your plans in one place. And opt-in notifications let you know if details about your upcoming events change.
A
Facebook the company, favors all of it's new products and features and apps and updates to iOS first then Android comes later
D
Why facebook why? First u connect instagram n candycrush n more with facebook n then u separated messenger n then u launched facebook lite n now this ??? Why?