The Google I/O went off to a flying start with the keynote speech bringing several important announcements to Android fans. We got an updated version of the tablet-friendly Honeycomb release that's already being seeded to Verizon subscribers and a sneak peak of the upcoming Ice Cream Sandwich version that should bring the comb of both current branches of the Android evolution together.
The numbers: 400K droids activated daily, total number exceeds 100M
Of course, it all started with some well-deserved pats on the back for the growth accomplished over the past year. In that time the total number of activated Android devices around the globe surpassed 100 million – no mean feat considering that the OS has only been around for a few years now. What's more the number of daily activations is already over 400,000, which suggests that we'll need less than a year to get to double that number.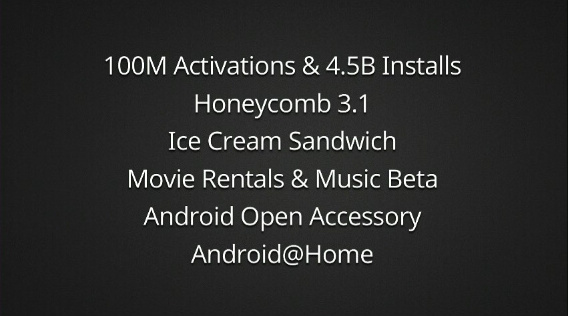 The Android market has also been enjoying some explosive growth recently – there are over 200,000 apps available there already and the total downloads have exceeded 4.5 billion. Recently the Android market managed to surpass the behemoth that is the App Store in terms of free apps and analysts predict that it will be overtaking it in number of total apps later this year.
Android 3.1 Honeycomb
The Google guys then moved on to the more important stuff and announced the first update to the tablet-friendly version of Android. The 3.1 release is again called Honeycomb as it only represents a minor upgrade over 3.0.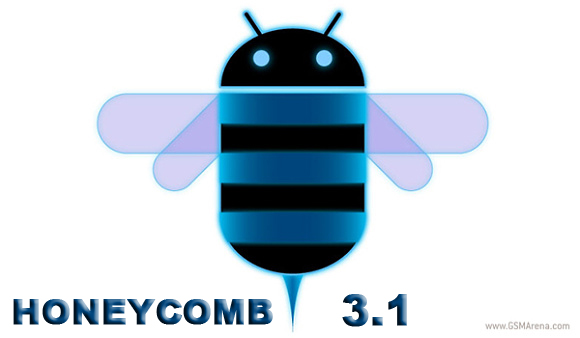 It's mostly tweaks and optimizations actually but there are a few new features, too. You get resizable widgets for those homescreens, and support for the USB host mode. USB host will allow you to easily transfer images from your memory card or digital camera to your tablet or you can make use of some cool USB accessories.
There was even a brief demo of playing games on an Android 3.1 Honeycomb-running tablet, using an Xbox 360 controller.
The Android 3.1 Honeycomb is being seeded to the Verizon-bound 3G version of the Motorola XOOM already and other devices should follow soon. The Samsung Galaxy Tab 10.1 should be getting it before it even hits the shelves.
The full Android 3.1 changelog can be found here.
Ice cream sandwich
And while Honeycomb is where Google will probably be focusing most of its attention this year, Ice cream sandwich represents the company's view of the future. The upcoming Android release doesn't have a version number just yet, but that should be announced sometime before its release in Q4 this year.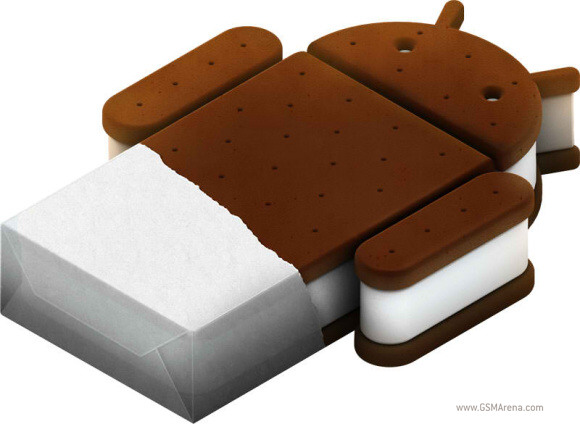 Android Ice cream sandwich will be Google's attempt of one OS to rule them all – it should combine the best of Honeycomb and Gingerbread and it should be able to run on everything – from smartphones through tablets to Google TV.
The Ice cream sandwich will bring a new holographic UI that Google described as state of the art, richer widgets and an advanced application framework. And it will remain open-source, which depending on your beliefs might be a good or a bad thing.
New Android Update policy
Google understands that updates are an important part of Android and because of that they announced the forming of a founding team, which will adopt guidelines for how quickly devices are updated after an Android update and also for how long they will continue to be updated.
The partners in question are Verizon, HTC, Sprint, LG, T-Mobile, Vodafone, Motorola, AT&T, Sony Ericsson and Samsung. Google invites every manufacturer and carrier to join this team. So, as a result, new devices from all the members of this alliance will receive the latest Android updates for 18 months after the device has been released, if the hardware allows it.
Others
Finally, Google announced Android@Home and Android Open Accessory. The latter enables and helps developers build hardware accessories to work with Android devices, thanks to the Open Accessory API. It's going to be available for Gingerbread 2.3.4 and Honeycomb 3.1.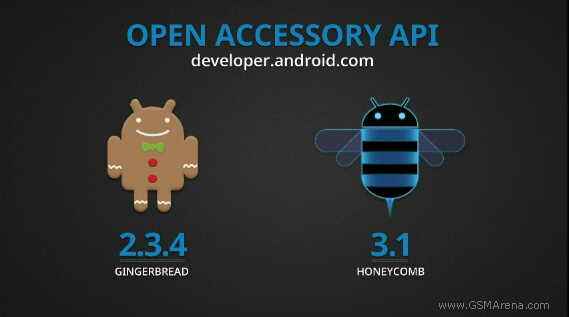 As a part of this program, Google will release an ADK kit, which will enable developers get into developing interesting geeky accessories for Android phones, such as this real-life Teeter-like game.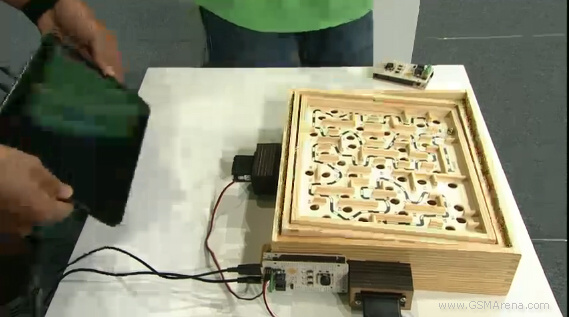 As for Android@Home, it's an interesting concept which allows Android apps to connect and communicate with home appliances and devices. You could control your lights, alarms and even your music once the application library grows and home appliance manufacturers figure what would be cool doing with this capability.
?
The truth about Nokia is, if it weren't for India, and it's billions of people who prefer Nokia, Nokia would've been in a much deeper quagmire than it already is in now. The sole reason Nokia's survived so far is thanks to this one country, whose pop...
H
In the business sense then yes Nokia are doing great. Because they get more money for every phone they sell. But the problem is times are changing and Nokia haven't caught on. Nokia want to keep their Identity which i completey understand. They have ...
D
bye bye symbian and wp7 ;) but welcome wp7.5 and wp8. which will rock the next smartphone's os :) :p
ADVERTISEMENTS