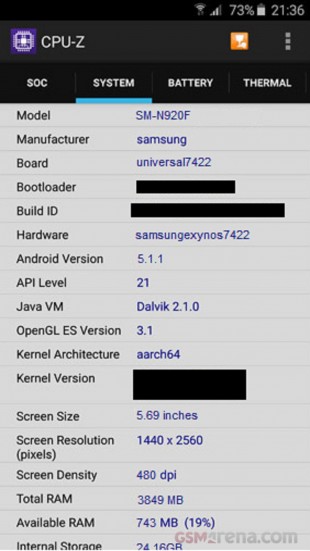 There's been a lot of speculation recently regarding the Samsung Galaxy Note 5 and its hardware in particular. We've seen more and more contradictory bits of information as we get closer to the handset's rumored unveiling date in mid-August, but today we may be able to clear up some confusions.
Thanks to an anonymous tipster, we have received a screenshot of the system info tab in CPU-Z running on a Note 5. You can see this to the left.
The phone in question is a prototype of the international version, which will have the model number SM-N920F. This iteration of the next Galaxy Note will indeed come sporting Samsung's own Exynos 7422 chipset, as has been rumored before.
This has been said to be an improved version of the Exynos 7420 found in the Galaxy S6 and S6 edge. Furthermore, it should be the first Samsung-made silicon to feature the modem on the same chip as the CPU and GPU.
Once again, it's confirmed that the Note 5 will have 4GB of RAM. It's also going to have 32GB of built-in storage in this version, though it's still unclear if a microSD card slot will be in there too.
Finally, it looks like the screen size and resolution will be kept identical to those of the phablet's predecessor, the Galaxy Note 4. That said, the Note 5's 5.7-inch QHD panel will surely receive some upgraded tech, as Samsung has done each year in the Note line.
At the moment, the prototype in question is running Android 5.1.1 Lollipop, which is the latest version Google has released so far. There's no reason to think the Note 5 will launch running anything else. Obviously though, expect to see Samsung's TouchWiz UI plastered on top, probably in a similarly toned down fashion to what happened for the Galaxy S6 and S6 edge earlier this year.
Just a few hours ago we saw live images of a purported Galaxy Note 5 prototype, which confirmed that it won't get an auto-eject mechanism for the S Pen stylus.
D
please anybody know to update the Samsung note 5 with model sm-n920f to 6.0?
?
I disagree. A 6 inch phone would be too big. Add the FFS and it would be humongous. The current Note 4 is on the edge of what is useable for me. But to each his own.
W
Does anyone think this phone should have been 5.9 or 6.0 and have great front speakers added as well? I am a big fan of Sammy Big screens and they're awesome 4k picture technology but I fail to see they have passed this down to the Note Series. As fo...
ADVERTISEMENTS