We just got an exclusive new shot of the HTC Pyramid. The image again shows the Pyramid posing next to the Desire HD, but this time we have the front of the phones. Best of all, it seems to confirm the rumor about the increased resolution screen.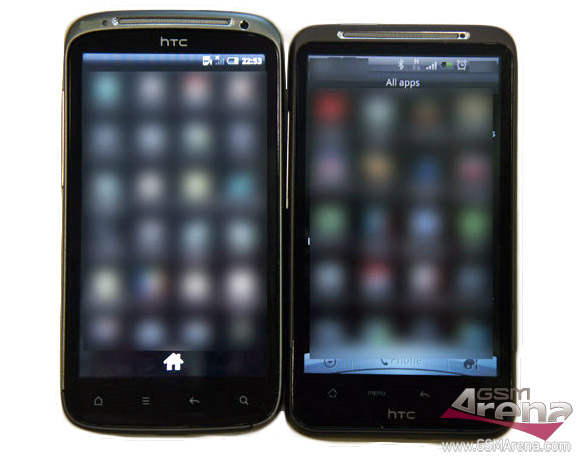 The new HTC Pyramid on the left
We've come across new information, regarding the specs of the new HTC device. We can't be sure on most of the information, but a 1.2 GHz dual-core processor is quoted. Also the 768 MB RAM, 8 megapixel autofocus camera. It's rumored to have DLNA and Sense UI 3.0. Last but not least Android 2.4!
Above the display you can clearly see a secondary camera, probably for video-calling and self-portraits. There's also an ambient light sensor located on the left of the earpiece.
The display size seems the same as that of the 4.3-inch Desire HD. Now as for the resolution, here is where things get really interesting. If you take a closer look at the icons in the notification area - you will see that they're a little bit smaller than the ones on the Desire HD. This would indicate that the resolution is higher than the WVGA (480x800) of the Desire HD - hence the higher pixel density and icons looking smaller.
We also did an aspect ratio comparison. It too confirmed that the aspect of the display is most probably qHD resolution instead of WVGA. The resolution of 540x960px results in 45% higher number of pixels than the Desire HD WVGA resolution of 480x800 pixels.
Hopefully we'll see full-res pictures of the device soon.
Thanks to the tipster who sent this in!
D
The shape of the Pyramid reminds me of my Nexus One. Also, judging by the "home" icon at the bottom of the screen, it looks to be running stock Android. I hope this becomes the Nexus Two!!! (wishful thinking)
T
Not to be a DPI zealot, but after using a my n900 "800 x 480" @3.5" (266 dpi) I found when working at 1:1 pixel density with web and RDP apps. that the DPI was too small. I could notice the eye strain after prolonged use. (retina displ...
?
do you people know the difference between size and resolution? Size of the both screens may be the same, but they can differ in resolution
ADVERTISEMENTS