It looks more and more like the leaked Apple iPhone 6 design is going to stick and we've got an exclusive to show you that solidifies the rumors.
An Apple iPhone 6 was pictured next to the Samsung Galaxy S5 so that we can get a clear view of how the devices stack up, size-wise. Looking at them it seems the Samsung flagship has better top and bottom bezels around the screen but broader side ones.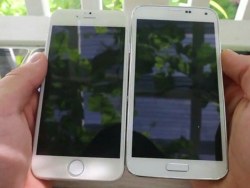 Apple iPhone 6 vs Samsung Galaxy S5 (click to expand)
The iPod Touch-like iPhone 6 looks consistent with recent sightings from Taiwan, which mark a departure from the sharp chamfered edges in favor of rounded ones. Leaks from China also point to the same design.
Aside from the new design that is synonymous with the iPods of old we expect to see a bigger 4.7" display of 960 x 1704 resolution and around 416 ppi, a revamped 8 MP camera, Apple A8 chipset, and iOS 8 on board. The iPhone 6 could make its way out of secrecy on September 19.
k
i think that iphone6 take over the market
?
I don't really like the look of the phone, I will be sticking with my 5 for a while if this is how the phone will look. However, this issue with which is better iOS or Android is just ridiculous. Both OS has their ups and their downs. People bu...
Z
That's what I'm saying Samsung isn't the best just because you like it. Dude just use iPhone5s and Samsung S5 once you'll feel the difference. iOs more secure and flawless os. you don't have to remove battery from your phone everytime to get it work...
ADVERTISEMENT