The case maker ITSKINS will be starting work on its lineup for the iPhone 6s and iPhone 6s Plus. Naturally it got the official dimensions for the devices and those are clearly visible by the sketches below.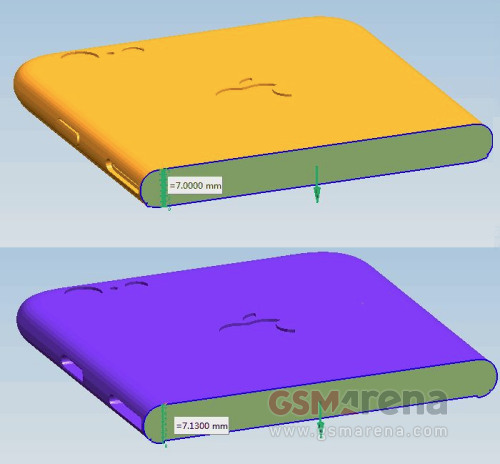 While the iPhone 6s and iPhone 6s Plus will look exactly like the current sixth generation, they will be a hair thicker. The iPhone 6s should be 7.0 mm tick, up 0.1mm from the iPhone 6, while the iPhone 6s Plus will be 7.13mm - up just 0.03mm from the 7.1 thick 6 Plus model.

The extra thickness is somewhat of a confirmation of the Force Touch display, which requires some extra space. The rumor has been around for quite some time and after the new MacBook Pro lineup and Apple Watch, the iPhone 6s duo will be next to get the pressure-sensitive technology. The Force Touch display, also hinted in the code of iOS 9, will allow for new gestures on the iPhones.
The iPhone 6s smartphones are reportedly entering production, so it makes sense the case maker begin theirs as well. The iPhone 6s should be unveiled in September with better chipset, a 12MP camera, LTE Cat.6 capable modem, and maybe a USB-C connectivity port.
h
I know.. The new iphones will come with a lighting cable to USB type-C.. So that you can only charge it through USB type-C connector for example on the new MacBook.. If you want to charge using normal USB you have to buy a USB type-C to normal USB do...
h
Samsung already had their variable pressure up touchscreen to 512 level(force touch only 2 level) on the old galaxy note 1. Samsung even has hover touch technology which Apple will probably introduce it in iPhone 8.
?
do you even know what force touch is?
ADVERTISEMENTS