We just got hold of a few new screenshots taken directly from the LG G3. They not only show how the latest Optimus user interface is going to look like, but also confirm the phone indeed features a QHD resolution display (2560x1440 pixels).
These screenshots were provided to us by a credible industry source. Our source tells us that the title "You may want to take an umbrella since rain is expected during this afternoon" on the first screenshot is in fact a new feature, which combines the weather forecast with your habits to provide you with a personalized recommendations for your daily routine.
The overall look and feel of the latest Optimus UI (on top of Android 4.4 KitKat) is very clean and flat, a trend that a lot of manufacturers are embracing. Everything from the icons, launcher and notification drawer is less cluttered and looks very nice.
The quick settings toggles are rounded icons, similarly to the latest Samsung TouchWiz UI on the Galaxy S5. The position of the QSlide Apps remains unchanged, but still, the notification drawer seems too busy for our taste.
Here's a full resolution screenshot for you to gaze at, as we had to shrink the rest to a reasonable web-friendly size.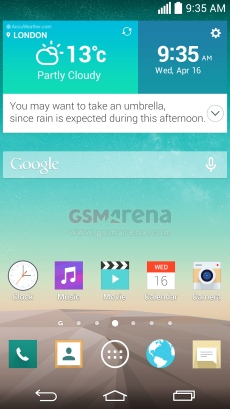 LG G3 QHD resolution screenshot
Unrelated to these screen caps, recent rumors claim the LG G3 is going to be based on the Japanese LG isai FL, which leaked a few days ago. The Japan-only smartphone sports a quad-core Snapdragon 801 SoC, clocked at 2.5GHz, a 5.5-inch LCD rumored to have 2560x1440 resolution, 2GB RAM, 32GB internal memory with microSD support, 3000mAh battery, and an IPX7 rating, which means it is water resistant.
Do you like the look of the new and upcoming Optimus UI better than the old one? Feel free to express your opinion in the comments section.
This comment may be over 5 years old but jeez, you are the very definition of a person stuck in the past. Symbian is dead
p
"and I'm definitely going for the LG G3." I think I'm gonna sit this one out and stick another year with my Nokia 808PV. At least my Symbian device has true multitasking, is loud, can record phonecalls automatically and takes terrifi...
p
Butt ugly flat 2d look crap. I've already seen that visually unappealing crap in the eighties I don't want to go back. Where's the smooth textured and glossy 3D effect shadows etc... from the last few years? Windows Vista looked gorgeous just ...
ADVERTISEMENTS