Things are in constant motion and the Mobile World Congress in Barcelona is literally buzzing with the latest mobile tech, even though it hasn't officially set off yet. It's so chock-full of the latest mobile tech here that we literally ran into a slew of unannounced LG phones in the street. We saw the company's L II-series, F-series and the latest addition to the Optimus G line-up – the Pro.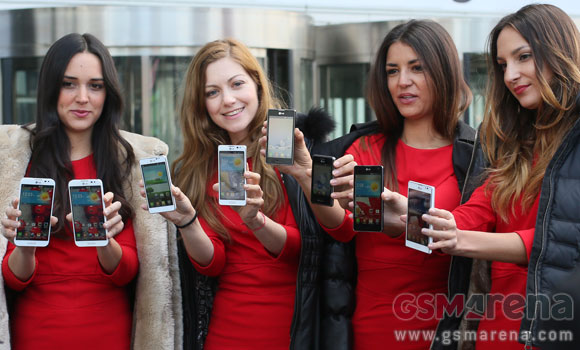 As you can see from the photo above, the LG promo ladies were skillfully holding LG Optimus Pro, the recently made official Optimus F5 and Optimus F7, and the Optimus L3 II. The have a hard time telling the models of the rest of the phones, but a good guess is that they are either the Optimus L5 II or the Optimus L7 II, or a member of the not yet announced V-series.
Click on the photo thumbnail below to see a larger photo of the phones.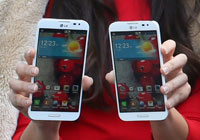 The Optimus G Pro got its launch in Korea, North America and Japan, and now it's Europe's turn, but pricing and availability for the latter is still unannounced. As for the LTE-enabled Optimus F5 and Optimus F7, it should hit Europe shores in Q2.
Anyhow, you'll get more familiar with all the aforementioned devices from our hands-on experience with them once we get on the MWC floor.
C
5.5 inch screen? Phones bigger then 4,5 inch cannot be called phones anymore. Anyway, that is not something to brag about. Live video zooming, really? This is since Nokia 3650! 360Degree PANORAMA?:))), What are we, kids? Who needs it? We...
D
I like the redhead just as I like the new Optimus F5
L
"G PRO" BIG 5.5" FULLY HD Screen/Display Removable BIG LONG LASTING 3140mAh battery support microSD card 64gb. DUAL HD video recording LIVE VIDEO ZOOMING 360Degree PANORAMA 13mp better Camera (Accurate / TRUE TO LIFE/sha...
ADVERTISEMENTS