Executive says Microsoft's next phone will be high-end, claims it will be "category innovating"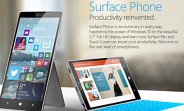 Microsoft's next phone will be a high-end device aimed at the enterprise market, according to the company's Corporate VP of Windows Kevin Gallo. He also claimed that the handset would be "category innovating."
"We're really aligned to what we've done on the Windows desktop," he said, adding "which is we'll lead with some high end and category innovation like we've done with Surface, and OEMs will go and build the breadth of the catalog."
He also commented on the company's Windows Phone OS, stressing that neither it has been abandoned, nor there are any such plans.
"Windows Phone is fully supported. We're fully behind it. We're not abandoning the phone," he said. "There's really no change in what our direction or strategy is with respect to releasing the Windows Phone software."
In fact, he said they'll soon be pushing out a major update to the Windows 10 Mobile OS.
A
Let the new phone by Microsoft be high end but the price should be midrange. Microsoft don't ask the moon. Learn something from xiaomi how to price your phones.
d
android is bloated when released now its slimming down windows is slim when released now its beefing up android and ios has no desktop variant so they are very agile windows is a shape shifting OS [and service] if at all there should be...
S
Cheater microsoft. They are not giving their full potential to windows phone. Promised to provide win10 to all lumia but didn't. Os so far is good but not upto the level of 8.1. Once they release surface phone, they will stop developing os for lumia....
ADVERTISEMENTS